So, I am not a very girly-girl and am very picky about dangly earrings.  I have a few pairs that I wear and that's it because I feel like most of them are too showy or big.  But stud earrings I'm much more comfortable about, although I'm still pretty picky about them.  I made an earring holder last year out of a frame and some lace leftover from my wedding but got really tired of attaching the stud earrings to it, so into a bowl they went.  But of course, I got tired of searching for earring mates in that bowl real quick and have been searching for a solution ever since.
I knew I didn't want the holder to be anything that sat on a counter or dresser, #counterclutterphobe, so I decided it needed to be attached to my jewelry wall in the closet along with all the other try-to-be-girly jewelry I have.
How to Make a Pegboard Earring Holder
The materials I used are pretty basic, and I'm sure there are easier/simpler ways to put this together but I don't have much in the way of woodworking supplies so this is how I roll.
pegboard, my piece was 4 holes deep by 24 holes long
1/2 yd fabric
4′ wood lattice strip
paint (I used ASCP "Paloma")
wood glue
fabric glue
hammer
small nails
jigsaw
drill
clamps
screwdriver & screws
knobs
scissors
Once I had my piece cut, I sanded down the holes so they were smooth, then gave it three thin coats of chalk paint.  A ton of paint gets stuck in those holes so I used a toothpick to get it out.
I had a handful of these 4'x 3″ x 1/4″ already primed lattice strips left over from my wainscoting project so I used one of them to make my front and sides.  To make it go faster, and because I don't have good clamps, we glued then nailed the frame together.  The fabric is attached with the fabric glue on the inside of the frame only, I didn't want any glue marks to be visible on the front.  I started by gluing the top front, then got clean folded corners, then glued the fabric on the sides, repeated this process on the bottom, then folded in the back ends.  I wanted the pegboard to sit flush with the top so I made sure to get the fabric laid flat around it.
I wanted to add even more storage options to this thing and pretty it up a little bit more so I decided to put some knobs on the sides to hang stuff on.  I found these pretty mercury glass knobs at HomeGoods and knew they'd go great!  Once the fabric was done and dry, I evenly marked where my six knobs needed to go (four on the front, one on each side).  NOTE: trust me, make a small slit in the fabric before you drill your holes, otherwise the fabric gets caught on the drill and snags.  Or be smarter than me and drill your holes before you put the fabric on, then just poke a hole in your fabric.
I also put a piece of fabric on the underside of my pegboard so the earring posts could poke through.  I figured this may hold them sturdier and allow me to hold any future pairs that may be smaller than the holes without them falling through.
Attaching this thing to the wall is where we had a bit of trial and error.  In the end, this is what I did, but again I'm sure there's better ways to do this.  I cut small pieces of my lattice, nailed it in an "L" shape, then glued it on the inside of each end so that the pegboard will sit level on top of it and sit flush to the top.  I then predrilled a hole on the wall side which I later used my little stubby screwdriver to screw it to the wall with.
Ta-da!  It is SO NICE not to have to dig around and find the earrings I want in the morning!  And I have plenty of room to add more pairs in the future ;)
I put it right between my dangly-earring frame holder and my driftwood necklace holder and hung my bracelets off the knobs.  Although I honestly can't stand to wear bracelets, they drive me crazy!  Any one else have this problem??
I really thought about doing a bright, fun fabric on this but, you know me, I was instantly drawn to this pretty white and gray print and think it paired perfectly with the light lavender/gray ASCP "Paloma" and the brass and mercury glass knobs.
So happy birthday to me!!  This may be the most useful thing I've installed in our home to date.  I actually get excited to go in there every morning to pick my earrings out and put them up in the evening (#nerdalert)!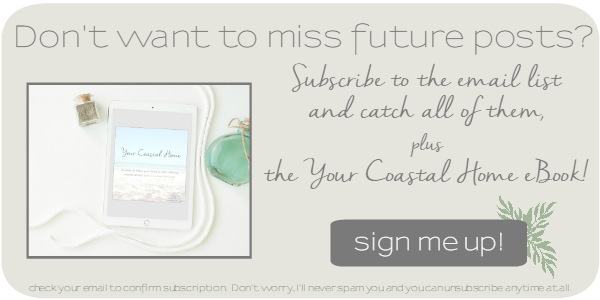 Share this!