This project y'all. I planned to tackle this over the winter. Instead it got pushed to June 1st and after two months of paint, dust, sweat, headaches, mess, sweat, paint, dust, and more sweat….THE KITCHEN IS DONE!!!!
This dang project took so much out of me that I've barely been able to muster the energy to do anything else around our house, nor do I have the energy to now. I feel like I need two weeks of nothing but relaxation and cooking in here to recover. I guess five days in Atlanta with my best blog friends for the Haven Conference will be a nice little getaway :)
If you're just catching up, I gave our 90s pickled oak kitchen a clean and rustic farmhouse makeover with beautiful gray cabinets, shiplap walls, some new fixtures, and rustic touches throughout. You can read all the other posts about the project here (just click on each pic):
Let's refresh our memory and see where we were starting. Very dirty and beat up pickled oak cabinets (with gloss black trim(!)), leaking corroded faucet, ugly trim, and hideous light fixtures that all did NOT match the rest of our house at.all.
My dream for the space was to transform the cabinetry into a beautiful warm gray to be less overwhelming and really let the shaved river rock backsplash shine, get new industrial/vintage light fixtures, and make the cabinets pop even more by installing clean white shiplap on the walls above them.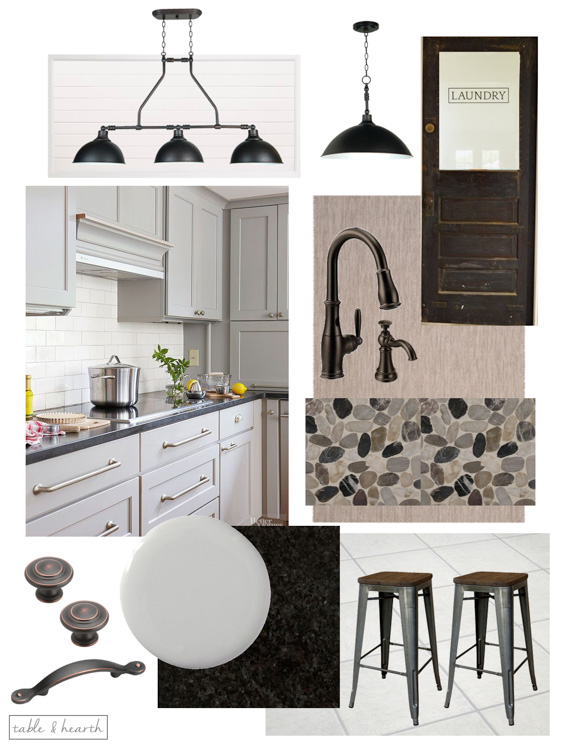 *affiliate links included for your convenience, click here to see my full disclosure policy
Here's our new rustic gray farmhouse kitchen!!
Doesn't it look like a whole new space?! It looks a ton bigger and cleaner in here and it blows us away every single time we walk in. It is crazy what some paint can do for a space, especially in the kitchen!
*you can find sources for everything in the Bring It Home gallery at the end of the post :)
Since I was installing white shiplap as well as lightening the cabinets, I was worried that there would be too much white in the space with our white/super light gray walls, white doors, and white floor tile, so I added one of my favorite faux eucalyptus wreaths to the pantry door, and installed this old chippy paint door I've been hoarding for months where our laundry room door was. It is just what we needed to break up all that white!
The biggest transformation other than the cabinets is the lighting. We took down that HORRID track light system and hung this 3-light linear pendant along with a matching pendant for the breakfast nook. There are pot lights above the bar so there is still plenty of light in this space. I am obsessed with how this light looks up against that white shiplap!
One design decision I struggled with alot was adding rugs in here. I cook ALOT so our kitchen gets destroyed on at least a weekly basis, which made me really worried about adding anything but those silicone squishy pads in here. I knew that some natural fiber rugs would look so great in here and I REALLY wanted to break up all that tile if I could though, so I decided to go for it with a couple nubby jute runners.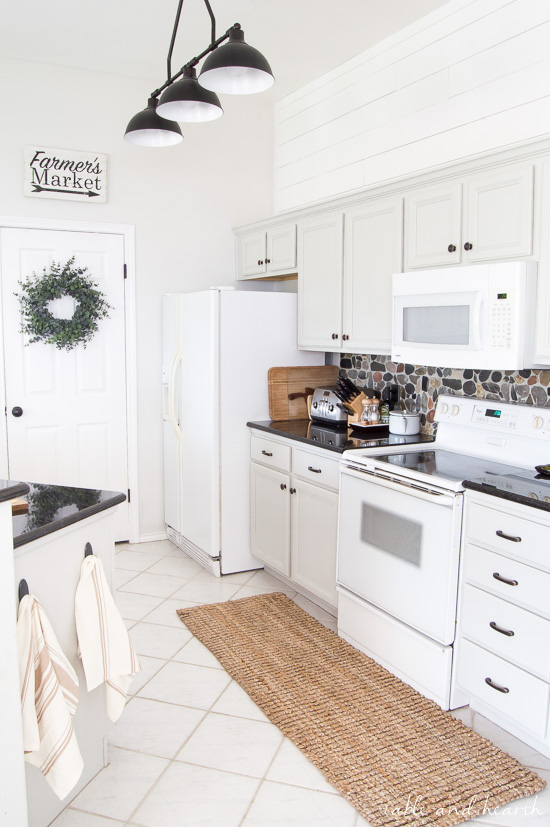 I was really surprised by how much more the shaved river rock backsplash stands out against the gray cabinets now. I was worried that the cabinets would blend in with the grout color and make it not as noticeable, but it's actually the opposite. I think the pickled oak cabinets just overwhelmed the backsplash instead of subtly complimenting it. I mean, if you're gonna have a river rock backsplash, it needs to be a focus. It's definitely not what I would pick out if I were designing a kitchen from scratch, but there definitely could be worse and the makeover has made me love it even more now.
I love my friend LZ's farmhouse signs and knew that this "Farmer's Market" sign would be perfect in here. Plus, our farmer's market actually is that way :)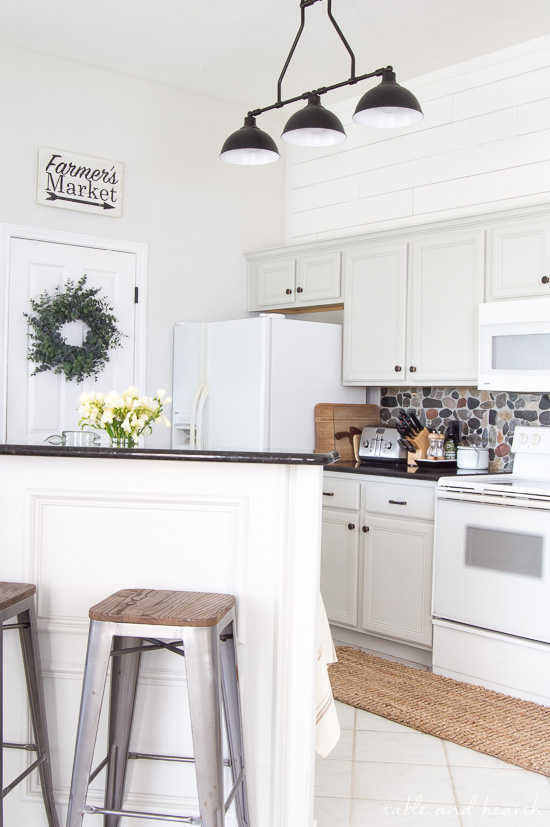 I used Sherwin-Williams' ProClassic Waterborne Interior Acrylic Latex in "Repose Gray" and applied it to the doors and drawer fronts with my go-to sprayer and then by brush on the frames and on the bar front. I could have NEVER done this project without my sprayer, nor with a crappier paint. The ProClassic went on like buttah. I'll break down my lazy-but-OCD painting process in a couple weeks.
This door is lucky it's the pièce de résistance of the space because it gave us so.many.headaches. I'll be sharing more about it in a couple weeks but let's just revel in the fact that it's here…I really thought it wouldn't be.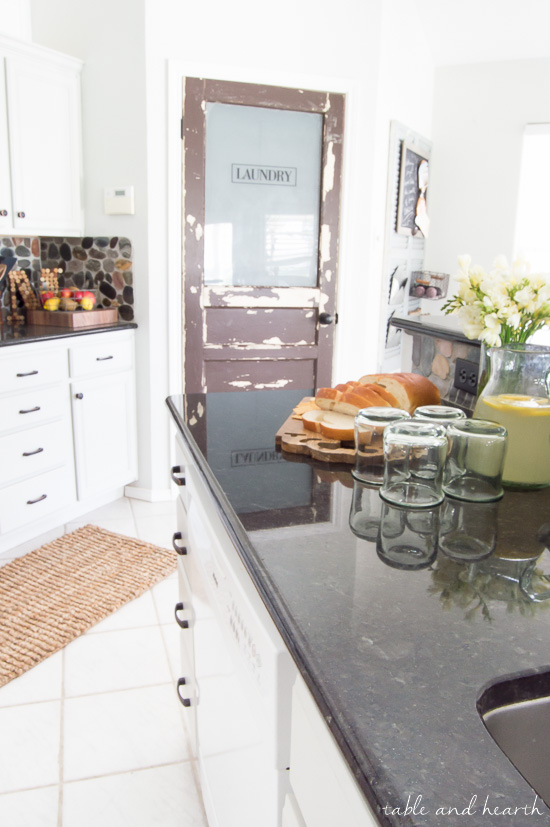 And because everyone loves a good side-by-side, let's see just how far this space has come in the last two months!
It really does look so much bigger in here and it's finally not so visually overwhelming! I am so proud of where this space ended up and this was definitely my DIY Everest. I think it's a right of passage for every DIY blogger to update a kitchen at some point, so I will gladly check that off my bucket list. Fingers crossed we won't have to do it again for a few more years!
I will be sharing the tutorials for the various DIYs in this space in a few weeks after I've recovered from Haven*, but you can find links to items used in the space in the gallery below. I want to also thank these awesome sponsors for their amazing products that I use and swear by which made this project go as smoothly as it possibly could:
Sherwin-Williams | Moen | Homeright | Wayfair | Purdy | PlushRugs | RugPadUSA
Now I think I'll indulge in a big glass of that lemonade and one of those cupcakes and start thinking of all the recipes to make in our "new" kitchen and share with y'all!!
*UPDATE: Click the images below to see all the tutorials!!
***thank you so much for all your kind words on last week's post, it means the world to us and I wish I could hug each and every one of you!