Happy Monday y'all (and happy back to school for some of you I'm sure!)
We are thoroughly enjoying our newly updated kitchen with the first full feast/countertop explosion happening this weekend and man did it feel great!! The kitchen feels so much more open, clean, calm, and light now which really does have an effect on how much time we spend in here. As you can see in this before picture, our kitchen was filled with beat up pickled oak cabinets, funky lighting, funky trim, and two big boring white doors.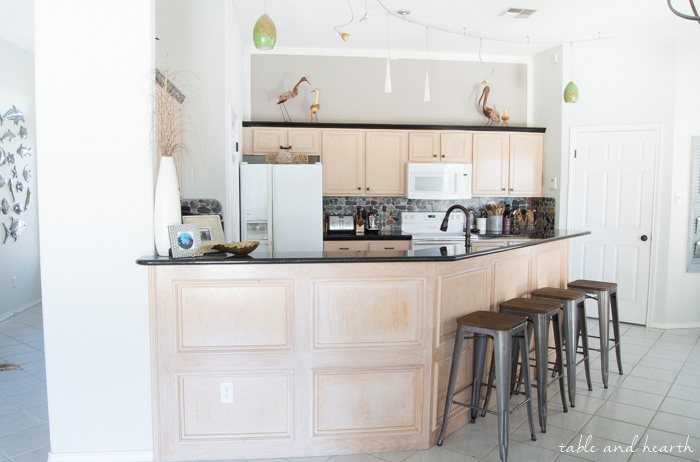 And after I painted the cabinets, installed new light fixtures, updated the faucet, installed white shiplap, got new rugs, and reduced some of the white by changing out the boring laundry door to an old rustic beauty with frosted glass, we have an entirely "new" look to our kitchen!!
This week I will be sharing the tutorials for some of those DIYs: painting the cabinets, fixing broken drawer fronts, and installing that beautiful chippy-paint old door for the laundry room.
Many things changed in the kitchen, but probably one of the most noticeable is the old vintage door on the laundry room we installed. We worked till the very last minute on getting this guy in and it actually ended up being quite the ordeal/struggle/feat that really tested our patience. I figured if we struggled with this, there may be others out there who are too so I'm going to share what worked for us to finally get this guy installed.
Supplies for Installing a Rustic Laundry Door
I found this door from the same little shop up the coast where I found the one I used in our master bedroom. It was only $20 I believe but was missing the glass and original hardware (I won't get on my rant about removing original hardware again…). I knew with a little TLC that this guy could be a fun statement piece somewhere, either installed or as wall decor somehow. Sometimes you just have to grab pieces that speak to you and stash them till the idea hits, you know? ;) *affiliate links included for your convenience, click here to see my full disclosure policy
Depending on the condition of your door, you of course may or may not need all of these supplies or these exact instructions, these are just all the things I used on ours.
As with any old chippy-paint piece, be sure it tests negative for lead paint and is sealed before using it in your home!
How to Install a Rustic Laundry Door
I didn't get complete before shots of the door but it was definitely pretty dank. It was VERY dirty and took a few scrubs to clean up then had a bunch of accouterments like latches and weather stripping on it that I had to remove. But once it was clean, it was time to get to work.
The first thing I did was get the side pieces/joints all flush again as the board on the left side of the door had come apart about an inch or so. I put wood glue down into the joints then used a rubber mallet to gently tap it back into place. I then clamped it and let it sit overnight to dry and then repeated it at the other end.
To keep the paint from chipping off any more, I sealed the door with my favorite non-toxic sealer that does an amazing job of holding down chippy paint. I love that it has a matte finish too so it really doesn't change the look of the piece. It has worked great on our outdoor dining table.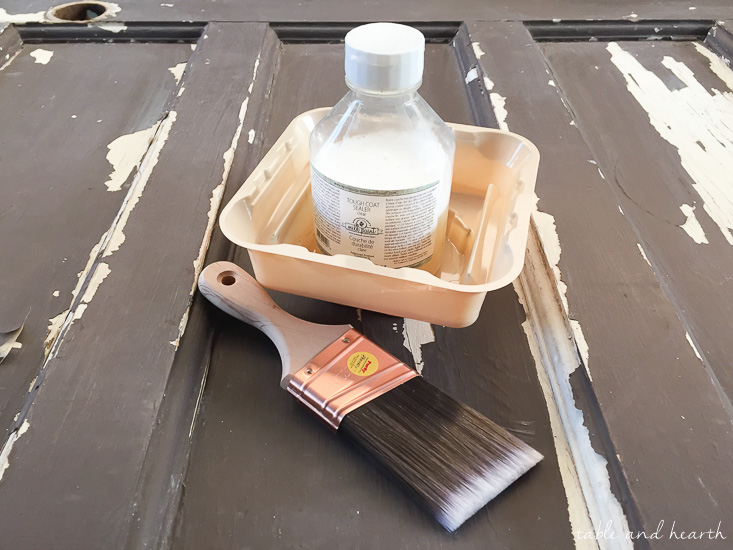 I wanted to make sure all the structural work and finishing work was done to the door before I had the glass put back in so that I didn't have to worry about breaking the glass or the shop messing up the paint. I called around to a few local shops for estimates on getting the glass put in and found a place I could take it to who would do it for $100, about $100 less than other places I talked to. Since it is an interior door, they are required to use tempered glass which is slightly more expensive. I also started by requesting frosted glass which of course increased the cost, but then I remembered that handy frosting film you can DIY which let me go back to getting plain clear glass (more on the film in a sec). It took them just a few hours to put the glass in and the door instantly looked much more presentable!
NOW, here is where things got frustrating. I did 30484 measurements of latch and hinge locations in comparison to the existing ones in the door frame since we didn't want to change anything in the frame, and thought it would fit just fine. BUT once we got the door temporarily in place (using a dolly to lift it up) it was clear I apparently forgot to measure from the top of the frame down to the latch, I just did from the bottom of the door up which meant the latch was too low for the latch hole… so the top of the door was going to have to be trimmed down. I don't have any pics because it was like 9pm but a couple of passes with the circular saw finally got us lined up.
After marking where the hinges would fall now, I laid the door face-down on the sawhorses so I could work on carving out the new hinge spaces, drill the new hinge screw holes, as well as frost the window. Our laundry room is teensy tiny and super boring so of course we didn't want to leave the glass clear. Nobody wants to look at that.
I used this window film kit in our master bathroom shower and it has held up great for years now, but it was definitely a bit more cumbersome on such a bigger piece of glass. It would have been MUCH easier with two people so keep that in mind when you use it. The kit comes with full instructions and just involves cleaning the glass, spraying the application liquid, placing the film down, then trimming the film around the edges.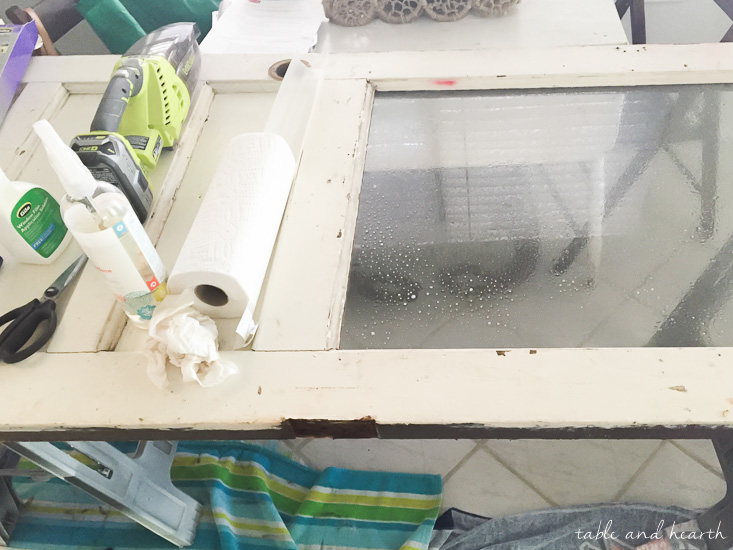 All alot easier than it sounds (as usual). The film doesn't like to lay down around any glue on the edges, or if there's any dust or specks on the glass which of course I created a ton of on this old door, despite my cleaning efforts. It behaves better once you trim it but still takes alot of patience and playing around with. The edges definitely didn't come out perfect but you really can't tell at all. I suggest cutting off any glue before you put the film down and have some extra hands to keep from having to mess with the film too much.
Once the film was done we used the dolly again to install the door. Here's how the hinges now sit. You can see the old hinge spot above, then where I had to trim out the new for it to fit (I used a jigsaw for this).
Tada!!! It felt SO good to have this guy in place and hanging finally, but there were a few places where the door was hitting the frame and keeping it from shutting completely so we used the Dremel to sand down some of the edges on the inside to help with that. The door is about 1/8″ narrower than the old one so we had to add a bead of super glue gel to the tip of the latch to get it to stay latched shut (#improvise). I told you this thing was frustrating….but it works until we can think of a better option.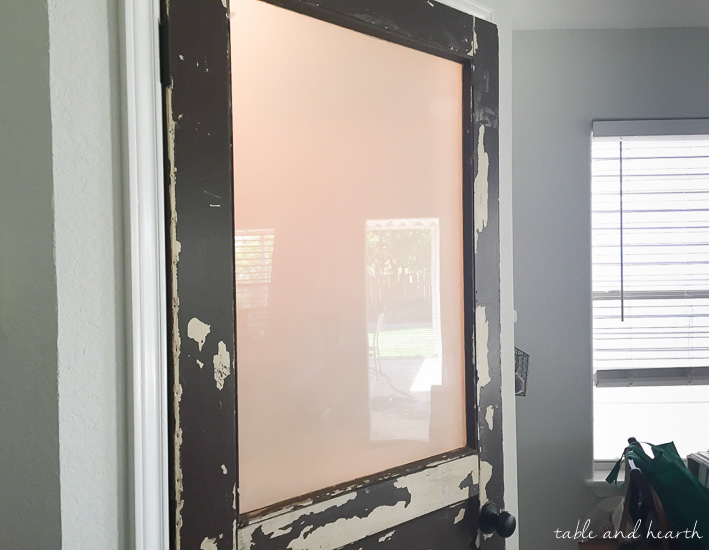 I then centered and adhered the vintage-style "Laundry" decal and called it D-O-N-E, just in the nick of time!
Of course we waited until the very last two weeks to deal with this door so it ended up being a huge PITA, but it was all sooooo worth it when we saw it installed against the finished kitchen! It is exactly the visual interest we needed over on that side of the space and is such a nice compliment to the colors in the backsplash. I was worried it, the shiplap, and the backsplash would clash but I think they all work together perfectly. I'm SO glad we didn't throw in the towel the 56 times I wanted to, huge thanks to the husband for pushing me to still try things to make it work.
I have such a huge obsession with old doors but I think I will pass on installing another anytime soon, I'm spent after this!! What about you guys? Have you ever installed an older piece in your home??
Stay tuned for the other tutorials this week (including the full cabinet painting breakdown!) and you can go back and see all the other kitchen update posts here: