Hi hi!! Welcome to Week 2 of our patio makeover for the One Room Challenge! This week is my favorite, second to the reveal! Today I get to show you the design plan, inspiration pics, and to-do list! Ok, that last item is not actually a favorite, just the other two :)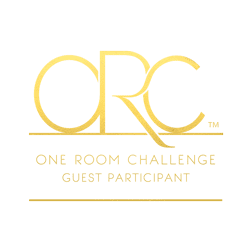 If you're just stopping over, let me catch you up on all this One Room Challenge jazz. The One Room Challenge is put on twice a year by Linda at Calling It Home and myself and a bunch of other talented bloggers take part in it as linking participants. We are tasked with making over a space in our home in just SIX weeks, sharing weekly updates as we go along. This is Week 2 and the final reveal will be on November 11th (you guys are getting these a day early each week because of the link party here on Thursdays). Every Thursday, you can hop over to the link up at Calling It Home here and catch up on everyone's projects.
Well, the "room" I've decided to tackle is our back patio and I want to transform it into a rustic, weathered, coastal, and relaxed space. You can see all the oh-so-boring before pictures in Week 1 here. Now, here are my general ideas for each area of the patio (privacy wall, dining area, sitting area):
*affiliate links included for your convenience. I've partnered with Wayfair for items of my choosing for the space, all opinions are very much my own as usual. Click here to read my full disclosure policy
outdoor fans / wall stain / rugs / dining chairs / chair cushions / glassware / dinnerware / napkins / napkin rings /candles / mirror / patio set / patio set stain / jute-trimmed pillows / button pillows / lanterns
(*similar items given as needed, not all items shown here)
Privacy Wall Area
The brittle, dated, old lattice on the privacy wall will finally come down and in it's place I want to do horizontal planks stained to match our DIY pergola. Flanking the wall, I want to have plants galore, all in pretty white ceramic pots, including a couple of key lime trees. I'm going to try and build some sort of cooler table/outdoor bar/console table for this space to use during parties.
Dining Area
This is the part I'm most excited about because we haven't had an outdoor dining table almost the entire time we've lived here! I have the lofty goal of DIYing the table using these Ana White plans but will use these reclaimed chippy-paint boards as the top. I've never constructed anything but I'm soooo eager to delve into that world. Eager and nervous! Once the table is done, it will seat six in these cute wicker chairs. I reallllly wanted metal tub chairs but on the coast, those would rust in like a week :( The table will be set with all white dinnerware, casual drinkware, beautiful neutral linens, and an array of candles and greenery. There will be one of two of these outdoor rugs under the table too as well as hopefully one of two ceiling fans installed overhead.
Sitting Area
We currently have a patio set similar to what I showed above that's from World Market a few years ago. It's still in great shape but the wood has started to weather and dry out so the set just needs to be sanded and protectively re-stained. After that, I'll add some new cozy pillows, big lanterns, a pretty starburst mirror on the wall, lay the second rug down, and we'll hopefully have a ceiling fan over this area too. It gets soooo hot back here!
Below are a few of my favorite inspiration photos I've gathered that give a good feel for what I'm going for in the space. Rustic and weathered, with muted neutral colors and a slightly coastal vibe (but of course). You can see these and many more along with some of my items on my Patio Makeover Pinterest board.
Eeeeee!!! I cannot wait to see it all come together! But, here is my hefty to-do list to get there:
Build a farmhouse-style dining table using reclaimed lumber as the top
Stain table base to match seating set
Refinish/re-stain seating set
Demo old lattice privacy wall
Stain and install horizontal planks on the privacy wall
Get and plant plants in pots to go in front of privacy wall
Build matching cooler stand/bar table to go in front of privacy wall(?)
Run conduit from outlet to install two outdoor ceiling fans
Matching rugs for each space
(6) wicker chairs with cushions for dining table
New outdoor tableware
New pillows for seating area
Waterproof all cushions and pillows
Get hose reels for hoses(?)
I'm crazy honored and excited to be working with these awesome brands on my ORC projects and can't wait to share their products with y'all as we go along. LOVE!
I'm happy to report that right after my Week 1 post last week, I got my butt in gear and started on some of the DIYs, prying off the old lattice from the privacy wall (beast-mode, in like an hour!) and starting the table. I'm suuuuuper stoked about the table you guys. My plan for this weekend is to finish the table, get the slats for the wall, and start sanding the furniture. The items are starting to trickle in and they're accumulating in the most beautiful pile that I just go stare at all the time. #nopatience
We seem to be one of the few outdoor spaces in this ORC and I'm not sure if that is a positive or negative sign :) Either way, I definitely feel like this space is the least "us" in the house right now and is just as deserving of a makeover as an interior room, if not more because um….parties!
So, I'll be back next week to share some of the green friends for the space!