Guess what day it is?!
(Yes, it's hump day and the camel on TV would be happy) but it's also the first day of the Fall 2015 One Room Challenge!!   The ORC is put on twice a year by Linda at Calling It Home, in the spring and in the fall, and it's a challenge for 20 amazing designers and bloggers to completely transform a room in just six short weeks.  Six!  The designers will be posting their progress each Wednesday and the linking participants will be posting theirs on Thursdays, however, since I have the Think and Make Thursday link party those days, you guys will be getting my updates on Wednesdays.  But on Thursdays, make sure to check out the link up over at Calling It Home so you can hop around and see all the amazing work everyone's doing.  The full reveals will be on November 12th (the 11th here)!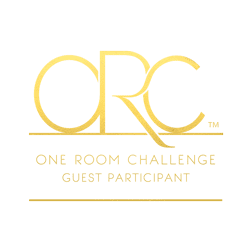 For the spring challenge, I updated our master bedroom (and am still so in love with it).  For this one though, I'm taking things outside and will be overhauling our back patio!
Now, don't get me wrong, our backyard has definitely already undergone an awesome transformation, first with sodding the whole yard, re-landscaping with Texas natives, then building a DIY pergola, but the actual patio space has been pretty stagnant and boring this whole time.
Warning: keepin' it real photos ahead.  I've always meant to do a series of posts showing you guys how things really look around here but man, this first one stings a little bit :) I didn't even take the towels off the cushions or fix the pillows but I did roll up the hoses at least…
There have been a couple of updates out here over the years.  I got the patio set from World Market maybe three or four years ago and while it's still super sturdy and comfortable, the harsh sun and weather is starting to take it's toll on the finish so it all needs to be sanded and re-stained.
We also had a handful of carpenter bees stay with us this summer thanks to my driftwood hoarding :/  Aside from their yellow poops splattered all over, I don't really mind them in the driftwood because they're actually kinda cool and are pollinating my flowers (nerd alert), but one b*tch made her nest in the back of the loveseat and that is NOT okay.  I'm giving all of their kiddos a chance to get out and then their holes will be siliconed closed.  I've read that freshly stained/painted wood is less tempting to them so hopefully they'll peace out next year otherwise they will meet some nasty bug spray.
The lights got replaced a couple years ago as well and while I luuuurve their nautical style, they are metal and started to rust within a year thanks to our salty air.
As you can see in the 2009 photo above, we used to have a dining set too (wasn't it so niiiice?!) but that was from Walmart and was from the husband's bachelor apartment so it didn't last very long at all.  We've been sans dining out here ever since then and that is something I'm dying to have again.  I'll be using some chippy-paint lumber we found curbside to make the top of the table, and you can see that I was already scheming on how that'll work.
So yes, this space definitely needs some help!!   Next week I'll be sharing the rustic-neutral-coastal-shabby patio design board for the space as well as the scary to-do list.
In the meantime, hop over to Calling It Home tomorrow to see all the other talented participants and the spaces they'll be undertaking then check out the inspiration I've been gathering on my Pinterest board:
Follow Emily @ Table & Hearth's board Patio Makeover on Pinterest.
P.S. Tomorrow is the Think and Make Thursday Link Party's first anniversary!  You're definitely gonna want to stop by for that because we have a big treat for you guys :)