It's time to ring in the summer!! What better way to do so than by taking a little virtual trip to some beautiful waterside homes?!
I've rounded up 15 crazy talented home bloggers who live on or near a beach, a lake, or a river and asked them to open their homes this week and share how their home style is influenced and inspired by those nearby waters. Today, Wednesday, and Friday be sure to hop around and visit everyone's tours for a little vacay of your own!
Monday, June 20
Table & Hearth
The Happy Housie
In My Own Style
The Space Between
DIY Passion
Brian & Kaylor
Wednesday, June 22
Starfish Cottage
Family and the Lake House
What Meegan Makes
Migonis Home
Up to Date Interiors
Friday, June 24
Nina Hendrick
Simple Nature Decor
Shabbyfufu
Slightly Coastal
Setting for Four
First, for my tour, a little introduction. I'm Emily and I live on the lower Texas coast with my husband Matthew and a sassy little feline named Lily. Matt grew up on the coast and while I didn't, we did head down to my family's beach cabin every summer (still try to), so we both have had the ocean in our soul from a VERY young age.
*affiliate links included for your convenience, click here to see my full disclosure policy
We bought our first home about seven years ago and have slowly been updating it ever since to give it more personality and to make it work with our relaxed coastal style. I've always loved decorating and crafting but in updating the house, I started teaching myself how to DIY too and now love taking on projects and learning new techniques and tools.
So, let's start the tour shall we??
Our Summer 2016 Coastal Home Tour
First up is our courtyard that got a nice spruce-up this spring (read about it here). We love the privacy and intimacy of our wall and you can still see the canal from the chairs :)
Our living room is very open but we have made it feel much more warm and intimate with a large entertainment center and fun wall decor to take up those big walls.
We also have one wall with a fireplace in the living room. Now, being south Texas, we NEVER use it but I do love to have a focal point in here and am happy to decorate a mantel. It is flanked by these huge solid windows which let in a ton of light and look out over our pretty backyard.
Our dining area is also surrounded by more windows and high ceilings. I'm not a huge fan of a ton of tablescaping unless it's an occasion so our set is simple and clean.
Our kitchen and breakfast nook are also nice big open areas, but the kitchen needed some updating (ugh, pickled oak cabinets!). If you've been around recently you've heard that I am in the middle of doing just that. You can catch up with the series here, so stay tuned for a MUCH prettier kitchen in a few weeks!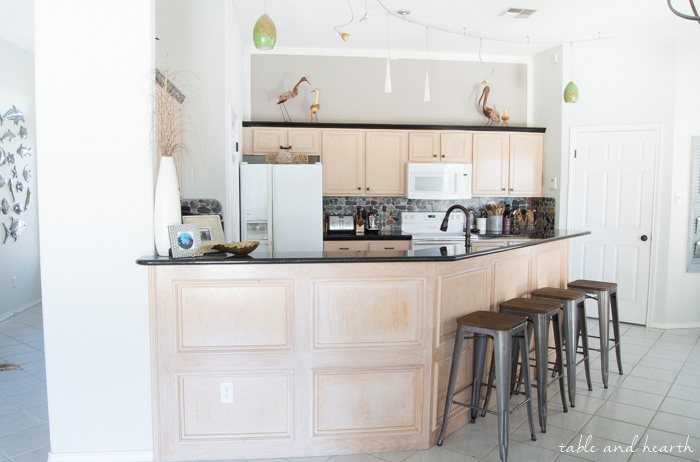 Given our locale, it's pretty often that we've got family or friends coming to visit for a weekend at the beach so I wanted our guest room to feel like a relaxing beach cottage escape. It got a ton of updates, including our pretty dark shiplap wall.
Our guests also get pampered in the updated guest bathroom. This space is what triggered my love of DIY and is still something I'm super proud of.
Even though we love neutral, light, weathered tones, I've always had a major design crush on dark walls so I thought our office would be a fun space to try it out. I found the perfect color and have made this room into a special place to show off some of our fun stuff and be a little bit funky while still being light and airy.
Our master bedroom is SUCH a retreat for us and has come a loooong way in seven years. The wainscoting makes it elegant but the patterns, colors, and finishes are very coastal-inspired.
We also updated our master bath to make it alot brighter and more our style. (I wouldn't be sad if those glass blocks got demolished one day though…)
Finally, is our newly redecorated patio and backyard. We LOVE our backyard and have put a ton of work into it over the years.
Welp, that's it y'all, our cozy little home by the sea. I hope you love it and thanks so much for stopping by to check it out!