Right now, we are up in Fredericksburg gettin' our B&B, nature, antiquing, and foodie on for our anniversary trip, which I'll dish all about on Monday.
Today is the reception half of our DIYs. I talked about the ones related to the ceremony on Wednesday and about our wedding in general on Monday. Plus, you can see all of these in action on our Style Me Pretty feature (I'm still pinching myself that we were on there).
Hanging Escort Cards
We had a set seating chart so our guests needed to get their "number" when they left the ceremony. I tea-stained regular string tags from Office Depot and used a scrapbooking border punch to give them a "lacey" edge. Then just wrote each guest's name and "number" on them. These are a good way to see who RSVPd "yes" then didn't show, ha! :) See those gorgeous wildflowers at the bottom right? Read on…
Potted Native Wildflowers
I had wanted to use all native wildflowers in our arrangements but we would have to go pick them a day before and they don't hold up for too long so it wasn't an option. Instead, my amazing aunt-slash-maid-of-honor hauled down a nursery's worth of potted ones from the flower farm she works at. Complete with sewn pot covers in coordinating fabrics! We set them next to the signs and stations throughout the venue and they were gorgeous!
Centerpieces
The crates, glassware, and old cans used in the centerpieces were all thrifted and collected by a few of us the months before the wedding. The old wooden soda crates were from a local antique spot for only $6 each. The driftwood pieces are from the beach and bring a little touch of our coastal, aaand we were in Driftwood, Texas anyway! The chalkboards were from Save On Crafts which I stained espresso and wrote Aggie terms Matt came up with as our table "numbers". Brandi did an amazing job arranging this hodge-podge of stuff I brought into something gorgeous. It blew me away when I finally got to see the tables. I love all the weathered, pastel, muted colors against the dark accents.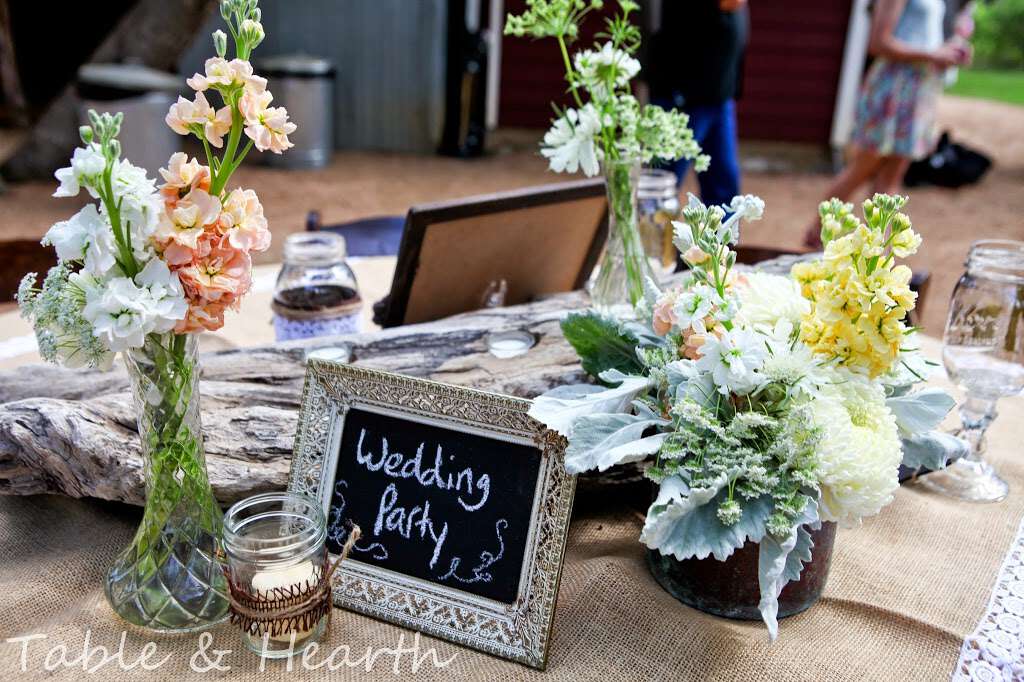 Crocheted Flowers
I crocheted a bunch of little flowers in dark brown, ivory, and white and stuck them on the table frames and chalkboard signs with little adhesives so they could be removed later. Instead of live flowers on the cake, we stuck a few of the ivory ones in there too.
Bar Menu Window
I had this old window that I found by the curb of a friend's house for a few years and it worked as the perfect menu to hang next to the bar and the panes were perfect for separating beer, liquor, and wine :) I used a gold Sharpie paint pen to write on it.
Cork Monogram
And speaking of the bar, our friend and bridesmaid Jenny made us this cute cork "M" for one of our engagement parties and we chose to put it at the bar during the reception. I have since made one of these for some other friends for their wedding too. The ribbon backdrop I made hung behind this bar.
Jam Favors
My aunt-slash-maid-of-honor was also amazing because she made 125+ jars of homemade jams for my favors, starting about a year before. She made strawberry, peach, apricot, grape, and I think raspberry. We cut squares of plain burlap, sage green burlap, tan seersucker, and tan muslin to go over the tops then tied a Kraft paper thank you tag (written in white ink) to each one. We put them on an old wooden spool that my in-laws found for free, one less table to rent!
Lavender Toss Cones
During our exit, I wanted guests to toss lavender on us since a) it's cheaper than petals 2) it's not wet like bubbles and 3) it smells good. While yes, it was all of those things, it was EVERYWHERE afterwards, we were finding little lavenders all over Matt's truck (our drive-away vehicle), in my dress, and in Matt's clothes, for days afterwards. But the smell of lavender will always remind me of my wedding :) Anyway, I made a bunch of these cones to put it in for the guests to grab as they lined up. They are just small squares of patterned scrapbook paper (out of one of those books), trimmed with pattern scissors on the edges, and glued together with hot glue. There was much trial and error to get the right size, roll, and glue to hold them but many many burns later I got a system down and they were easy. I think our guests really liked throwing a cone-full of lavender on us, like, too much.
That's it, all the DIYs we took on for the wedding. They weren't too much, weren't too little, and were started way in advance so I didn't have to freak out about them at the last minute.