Happy holidays everyone! Our tree is decorated, presents abound underneath it, lights are up outside, and YOU GUYS… we even had SNOW last week!! In freaking south Texas! That hasn't happened here since 2004 so you better believe we headed out to enjoy it for the few hours we had it.
The holiday spirit around here quadrupled after the snow and we are soaking in as much of Connor's first Christmas as we can. I feel like everything needs to be memorialized right now so we remember it, and I definitely want to start family Christmas traditions with him now too, starting with this cute keepsake stocking holder featuring our item of the month, label holders, as well as some very special charms to personalize it.
Before I get to the project, we are sad to say that this month is the end of the Monthly DIY Challenge as well. I have loved doing this each month and will miss the rush of creating a great DIY out of ordinary supplies (usually at the last minute of course). With new families, moves, career changes, and new blog directions, we all just felt it was time to be sure that is what we focus on. I've been joining these gals each month for the last couple of years but they've been at it twice as long, posting amazing projects every month for FOUR years! That's a heck of a lot of creativity and dedication. These bloggers aren't only my challenge-mates, they've become some of my very best friends and we chat every single day across multiple time zones and countries…it's pretty amazing. I do hope you will follow all of them as they are crazy talented and have some awesome projects in the works. And don't worry, we'll be teaming up here and there in the future…we can't quit each other that easily ;)
How to Make A Keepsake Stocking Holder
*affiliate links have been used for your convenience. Click here to see my full disclosure policy
James Avery is a Texas-based artisan jeweler who specializes in beautiful silver pieces that capture all sorts of special occasions, loved ones, places and nature. They're based in beautiful Kerrville, Texas and if you've grown up or been in Texas for long, you've definitely heard of them and probably have a few of their pieces. I'm pretty sure every girl in high school had a James Avery charm bracelet and that bracelet likely weight about a pound with all the cute charms on it, ha!
James Avery designs are timeless and are worn for many, many years. I've had James Avery pieces since middle school and they always represent someone or something very special. I have James Avery pearl earrings and a necklace which I wear every day in honor of our Pearl, and Matt's push present to me when Connor was born was a seahorse charm since we called Connor "seahorse" while I was pregnant. James Avery pieces are known for being keepsakes that are cherished for years.
Therefore, I happily teamed up with them to showcase how these pieces can be used other than jewelry to create a beautiful keepsake for the holidays. I chose the Dutch Snowflake charm (which now has even more meaning after our historic snow last week!) and the Keepsake Heart Charm with Aqua Spinel for Connor's birth month, and then also added his Seahorse charm since it is so special for him.
They have a huge line of charms for all sorts of occasions as well as a Christmas line with more holiday designs so you can create pieces for everyone!
Supplies
I used some scrap wood for this but you can make it whatever size you need it to be based on what wood you would like to use. The paper sheets I used are 5×7″ so my piece ended up being about 6″x10″ overall. I used 5×7″ since that will accommodate many years of growing boy hands, I put 12 sheets on here for 12 years (eek!)
Now, you'll have to forgive this VERY smudgey handprint, it's the best one I got after the limited time I could wrangle him to do this. The other 8 I got didn't resemble a hand whatsoever. I have no clue how his daycare teachers get such adorable hand and footprint art out of him all the time, they must teach me their ways! At the end of this I had white paint on my shirt, face, and hair and only one print I could use. So, do what you can…we will laugh about the smudgey print in a few years I'm sure.
Instructions
You can buy sheets of Kraft paper that already have a beautiful shape to them but if you already have some on hand or just have regular sheets, you can use a paper punch to give it rounded corners or other details.
After getting your handprint, use the hole punch to make your two holes in all the sheets.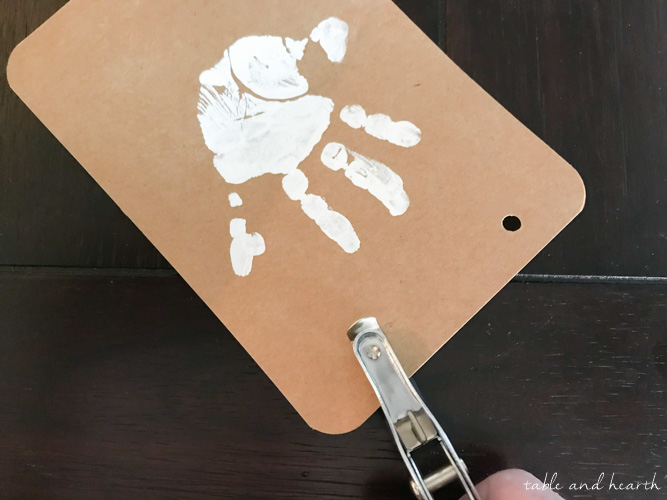 I cut my boards to size then cut a little roofline on the top just for a little more character. After sanding your boards, you can stain or paint them. I did a quick stain with some Classic Gray because I got lazy but I think it would be really pretty painted and then distressed. I marked where the holes needed to be drilled for the paper and also for the bottom to attach the boards together.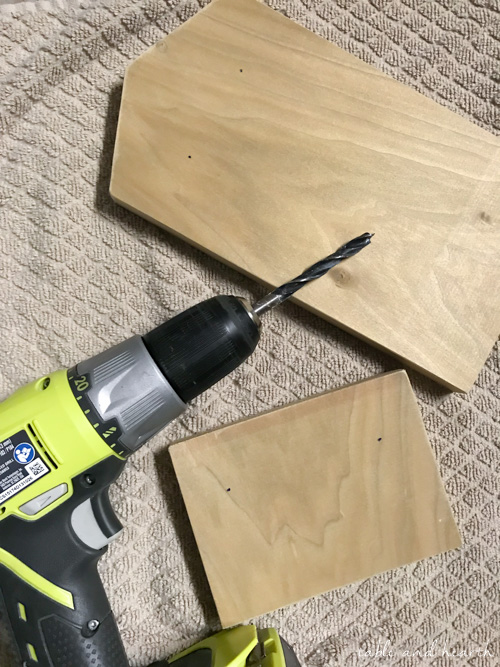 I predrilled the holes for the bottom to make the screws go in easier, but you can also use a pocket hole jig to attach the two if you want.
Screw your label holder on and attach your hook, then decorate with the little trees or other decorations you find. Hint: the aisle for the miniature Christmas tree decorating is the perfect place to find little pieces for this. To attach your sheets, pull the ribbon through the holes in the wood and carefully through the sheets, then thread the pendants onto one side of the ribbon, and tie in a bow.
It will be so much fun to look back on those little handprints over the years alongside the charms that are so unique and meaningful to Connor. The sterling silver looks beautiful with the rustic stain, white shades, and Kraft paper and works perfectly with our coastal Christmas decor.
Thank you to James Avery for sponsoring this post. All designs and opinions are my own as usual, click here to see my full disclosure policy. Thank you for supporting the brands that support this little blog!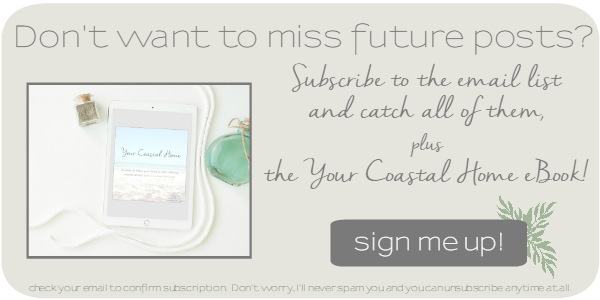 Share this!