I'm crazy proud about every single one of my projects around here, but this one takes the cake. I've dabbled in building things before and they always come out wonky and ghetto, so for the past few years I've just written it off that I just wasn't that type of DIYer. But the difference some good role models, good instructions, and good tools makes will make you change your tune eventually. It was time.
The first build? A DIY farmhouse dining table for our back patio. The need for a dining space out here is what triggered the whole patio makeover in the first place, so once I committed to doing it, there was no turning back. A table HAD to be made.
*affiliate links included for your convenience, click here to see my full disclosure policy
I had so many table plans bookmarked that I loved, but I wanted something simple. Both because I was picturing simpler lines out here and because I didn't want to bite off more than I could chew. Baby steps. The less angles the better the first go round. My only requirement was that it had a cross beam for putting your feet on to up the relaxation factor (am I right?!) and that I'd be able to use some beautiful chippy paint lumber we found this summer down the street (thanks neighbors!). This plan from Ana White fit the bill perfectly.
At the start of this, all I owned tool-wise was a drill, a jigsaw, and a very scary circular saw inherited from my father-in-law so I knew if I was going to build an actual piece of furniture, I needed to step it up just a bit with real safe tools. These puppies made this new territory alot less scary for me.
Ana's plans include instructions for building the top for the table, but I needed modify them to using the lumber I had found. I assembled it much the same (you can see the pocket holes below) and then used these new dimensions in the rest of the build.
After modifying the cut list based on my unique top, I made my cuts with the miter saw. One part of the plans that really scared the bajeebus out of me was having to notch out the legs. I practiced on some scrap lumber and found that it actually wasn't bad at all, as long as I made my cuts close together. It wasn't the pretties notch that's for sure, there was some splintering and I had to go back and trim more off to get the braces to fit later on, but all in all it was a success!
I decided to go ahead and stain the pieces of the base before assembling, just to minimize drips and getting paint on the underside of the top. I used Sherwin-Williams' SuperDeck solid deck stain in "Caribou" which is also the color I refinished the patio set in, and applied it with my badass Purdy brushes that make it go so much faster (love!).
To seal the top, I sprayed two coats of Thompson's Waterproofing Wood Sealer aerosol which was so much easier to use than a brush! I'm pretty sure this lumber is pressure-treated but I wanted to go ahead and give it even more protection since this will be out on the patio in the humidity. And to ward off the pesky carpenter bees that moved into our patio set this summer. Grrrrr.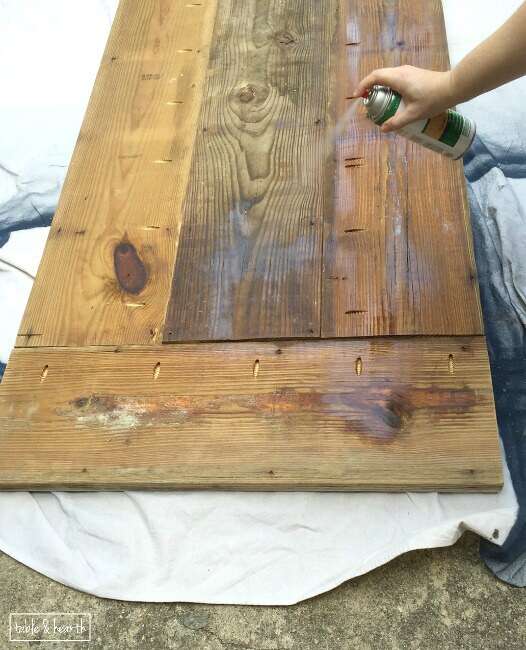 From there, it was time for assembly. This actually went really fast and took just an evening, thank goodness. I modified the plans here also to flip the end pieces around so the screws (and my oops splintering) would be on the inside instead of the outside. For assembly, I used exterior deck screws for the cross braces and Kreg's Blue-Kote screws so they'll hold up well out on our salty humid porch. I was SO anxious and ancy to get it done and flipped over so I was really happy it all came together so quickly and easily! It was a long evening but it was worth it to see that table done before I called it a night.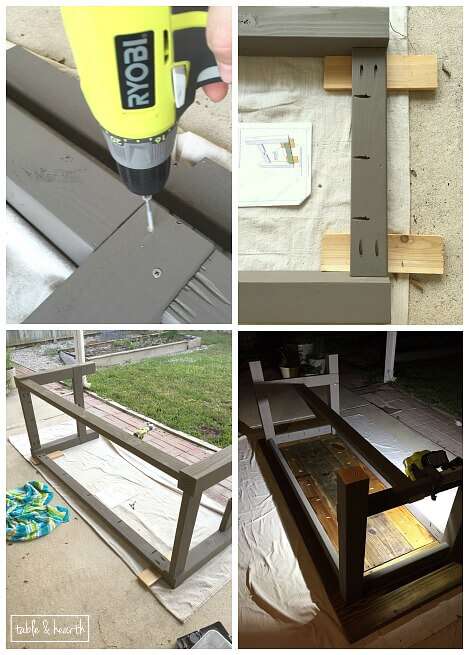 The top is beautiful and is sooooo heavy! Sure, the boards weren't completely flat or straight but I don't mind one bit and it just adds to the charm of the old finish. I sprayed the base with the same spar urethane that I used on the patio furniture to make sure to keep water off that wood and I will be sealing the top in the near future so the paint won't continue to peel.
I set it with some beautiful neutral and weathered pieces for our patio reveal which was perfectly subtle to let that pretty top show!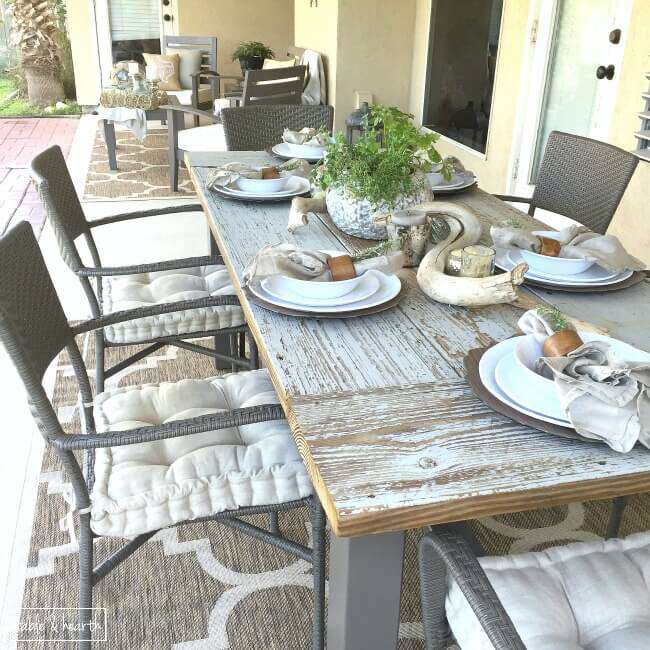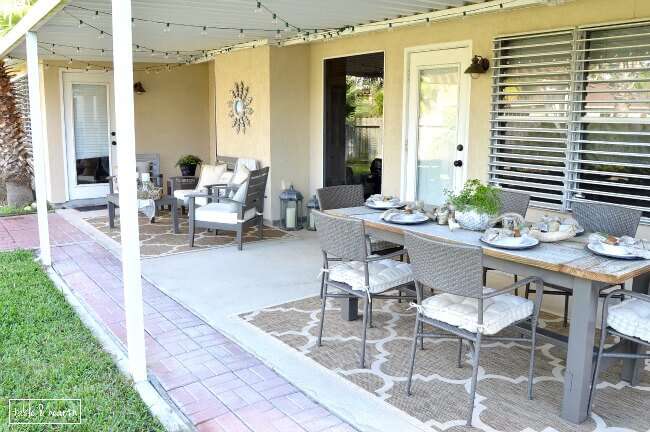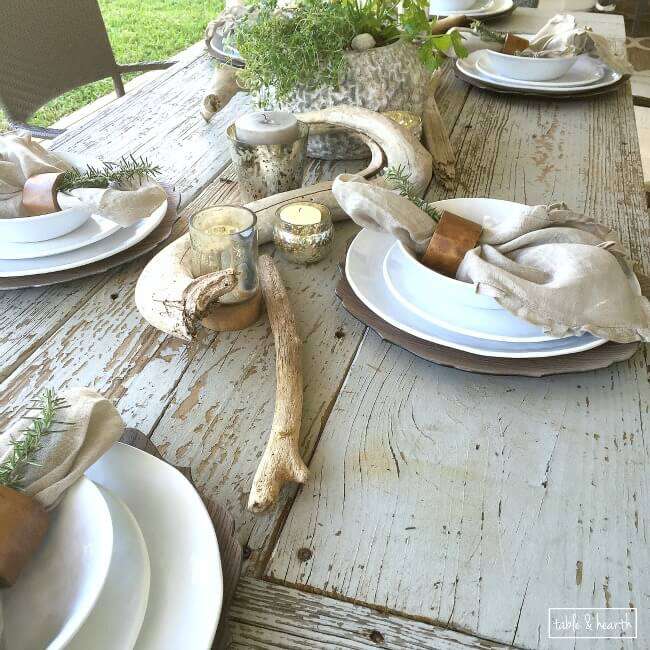 We are looking forward to many, many gatherings and feasts at this table for many, many years to come. I know it's not a completely perfect job (and don't EVEN measure some of it!) but it came out so much better than I imagined and by some miracle didn't have any big hiccups like all my projects seem to have.
I totally have the building bug now and am already brewing up some other pieces I can do. If only I could have myself a true workshop instead of making a mess by the fishing rods and grill ;)
Stay tuned for more patio projects coming soon!
*Huge thank you to Ryobi, Thompson's, Purdy, and Sherwin-Williams for providing products for the patio projects. I only use and promote brands I love and as usual, all opinions are completely my own. Click here to see my full disclosure policy