Squeee!! I'm so happy to finally be showing you guys this project!  I had everything ready to go for it back before the holidays but it just kept getting interrupted and took for.ev.er to finish.  But it was sooo worth it!
We had a simple World Market bookcase in here for the last few years but we needed a little more space, a little more style, and a little less sagging shelf action.
Its no secret I love the industrial-meets-rustic look so all of the industrial pipe shelving projects floating around Pinterest and blogland lately (like this, this, and this) had me instantly. I've been wanting to do one somewhere for a while and this was the perfect spot.  So I sketched up a plan and came up with what pieces I'd need.
I loved the asymmetry of having a skinnier shelf instead of all one size so my plan had four 4′ boards and one 2′ board located on the left side, giving me a larger opening on the right.
*affiliate links included for your convenience, see my full disclosure policy here
DIY Industrial Shelves Supplies
*all pipe is 1/2″ diameter pipe 
(1) 1″ x 12″ x 24″ poplar board 
(3) 1″ x 12″ x 48″ poplar board
(6) floor flanges
(14) tees
(17) elbows

various pipe lengths:
(1) 25″ piece (30″)
(3) 20″ pieces  (24″)
(6) 16″ pieces (24″)
(2) 14″ pieces (24″)
(6) 18″ pieces
various connector lengths:
(2) 10″
(3) 8″
(14) 6″
(3) 4″
(2) 5/16″ anchors w/ screws 6pk.
1″ hole saw with arbor
staining supplies
Some of the nipples and pipe lengths come ready to go in certain sizes, others (like the 25″, 20″, and 16″) need to be cut and threaded by an associate at the store which, for me, took forever every single time I had to do it.  Only a few of the employees are trained on the machine and it always took a while to track them down.  So if you can, try to make yours using the stock dimensions and if you need to get some cut, allow yourself plenty of browsing time.  I tried as much as I could to keep mine stock but still had to have some cut.  There was the sweetest guy at Home Depot for one of the trips so it made it go by faster :)  Also, many stores didn't have the quantities I needed in one trip so I had to keep going back.  I HIGHLY suggest ordering the fittings online so you can go get them in one trip!
Also, this stuff comes with a grease coating so you'll want to wash your pieces off with warm soapy water or Fast Orange beforehand (and dry them, they'll rust quick!).  The longer pieces come with a super gross layer of black sticky crap on them which is a b*tch to get off.  I tried Goo Gone and a scraper first but found that Fast Orange worked the best.
I went ahead and assembled what I could until the boards were ready so that installation would be quicker.  When screwing these pieces together, you only want them hand tight.  Don't wrench down on them because you won't be able to undo them and you'll need to tweak some of them while you're assembling.
I initially wanted to use thicker and wider boards but these poplar boards were already the right widths so for efficiency purposes, I used them.  To make up for how shallow they are, I exchanged the 8″ nipples for 10″ nipples on the top horizontal flange arms to have it stick out away from the wall a little further.  So the supply picture above was modified slightly.  There are a ton of plans out there so finagle the dimensions of all of it to your space, just be aware you may have to modify as you go like I did.
To get the shelves ready, I marked where I wanted my front holes to go on the first board (I think it was 1.5″ in each way).
I've never used a hole saw before so I had to a) learn what one even was, b) figure out how it's supposed to go on my drill.  First, you need something called an arbor which is a drill bit with a male threaded base to it.  Then you get the separate hole saw in whatever size you need and screw it onto your arbor.  The drill bit of the arbor makes a pilot hole so that the hole saw starts easily.  This is pretty much my favorite thing in our tool box now, I want to drill holes in everything with it.  Hole saw all the things!
Anyway, to keep the backside of the hole from splintering, I drilled about halfway through one side then flipped the board and resumed drilling from the other.  Oh, and there are one-piece hole saws (arbor+saw), which I tried first, but the bit broke on the very first hole.  It was impossible to make a clean hole with just the hole saw part, apparently the pilot bit part is essential.  So I went back and got the two piece assembly you see here and it worked like a charm.  Just a heads up :)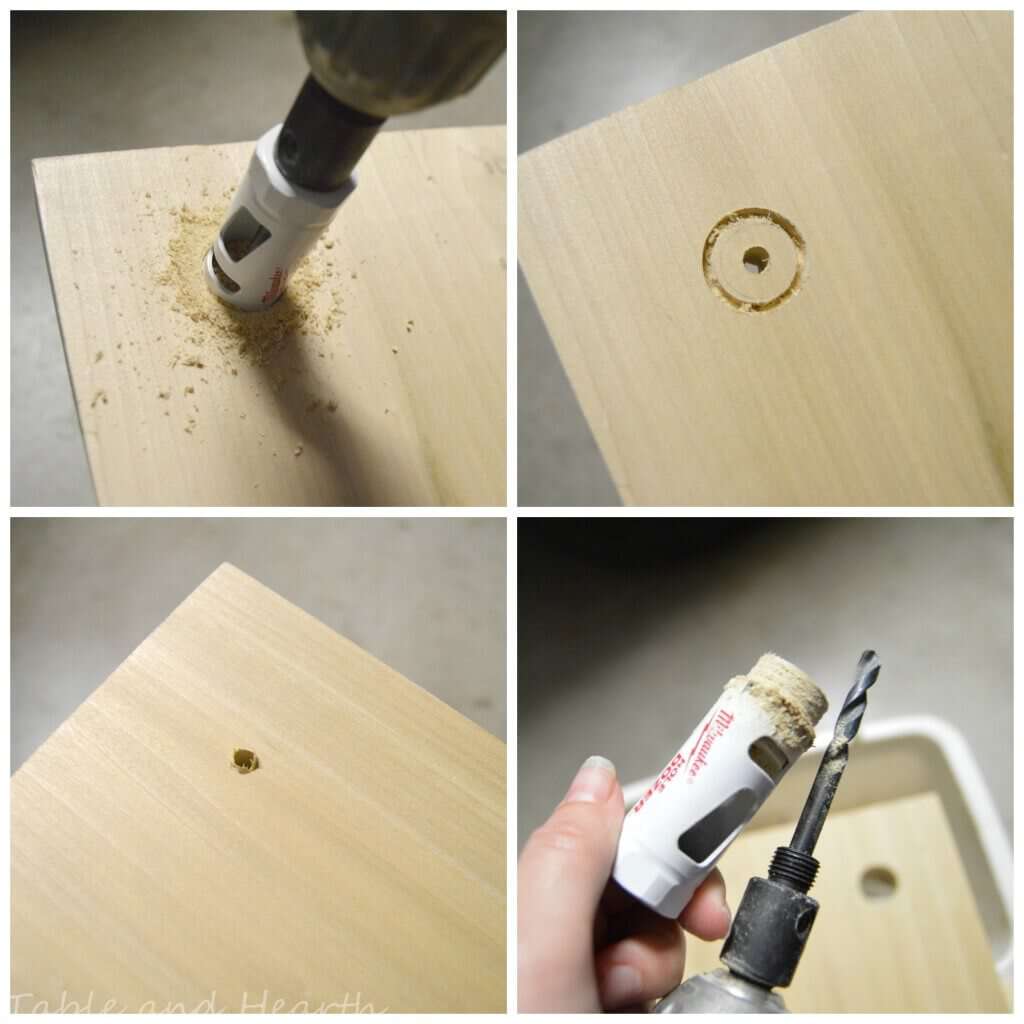 Once I had the holes done for the skinny shelf, I just laid it over the first long board, traced those holes, then measured for the third hole.  Once I had the first long board with it's holes, I did the same for the other three; stack, trace, drill.  The less measuring the better.
Then on to staining.  I tested three different methods on a scrap first; only stain (right), PolyShades (middle), and stain then clear poly (left).  I chose to go with the stain and clear poly.  The PolyShades was darker than I wanted.
You can see my splintery-non-pilot-bit-hole-drilling attempt on this piece :)
Finally everything was ready to go but, as usual, once I started assembling, I could see that my five-shelf plan wouldn't leave enough room at the top as I had thought (me+math=nada) so I left the top shelf and one set of the 16″ arms off.
Here is a rough cost breakdown for this project, as I had planned it with the five shelves total in all 1/2″ pipe.  I gradually purchased the supplies, using gift cards from my credit card points along the way :)
(1) 1″ x 12″ x 24″ poplar board – $11.45
(3) 1 x 12″ x 48″ poplar boards – $21.58 each – $64.74
(6) floor flanges – $39.66
(14) tees – $1.97 each – $27.58
(17) elbows – $1.54 each – $26.18
(1) 25″ piece (30″ piece) – $7.62
(3) 20″ pieces  (24″ pieces) – $19.29
(6) 16″ pieces (24″ pieces) – $38.58
(2) 14″ pieces (24″ pieces) – $12.86
(6) 18″ pieces – $28.68
(2) 10″ nipples – $6.86
(3) 8″ nipples  – $8.79
(14) 6″ nipples – $28.98
(3) 4″ nipples – $4.59
(2) 5/16″ anchors w/ screws 6pk. – $6.00
1″ hole saw with arbor – $9.79
staining supplies – already had (~$10 if not)
TOTAL —>>> approximately $350
I don't have any pictures of assembly since it took two of us.  It gets built from the ground up and is only secured at the top so it was a little sketchy for a while.  We had to tweak some heights by unscrewing/tightening to get everything level but it wasn't too bad, the arguments were at a minimum.  A few screws at the top and tada!  All done!
Still with me through all that?  Good, you're on the downslope now :)
The plan was for this to be the husband's baseball memorabilia display but all he wanted to put up were our autographed baseballs.  I'm sure a few more items will find their way here in the future though ;)  The rest is just books, storage, thrifty things, pictures, a mirror, and one of my Dad's Navy hats.  These shelves will be rearranged no less than a dozen times in the next month or two though, I can promise that.
And for the obligatory barrage of pictures since for once I finally got decent light in this room!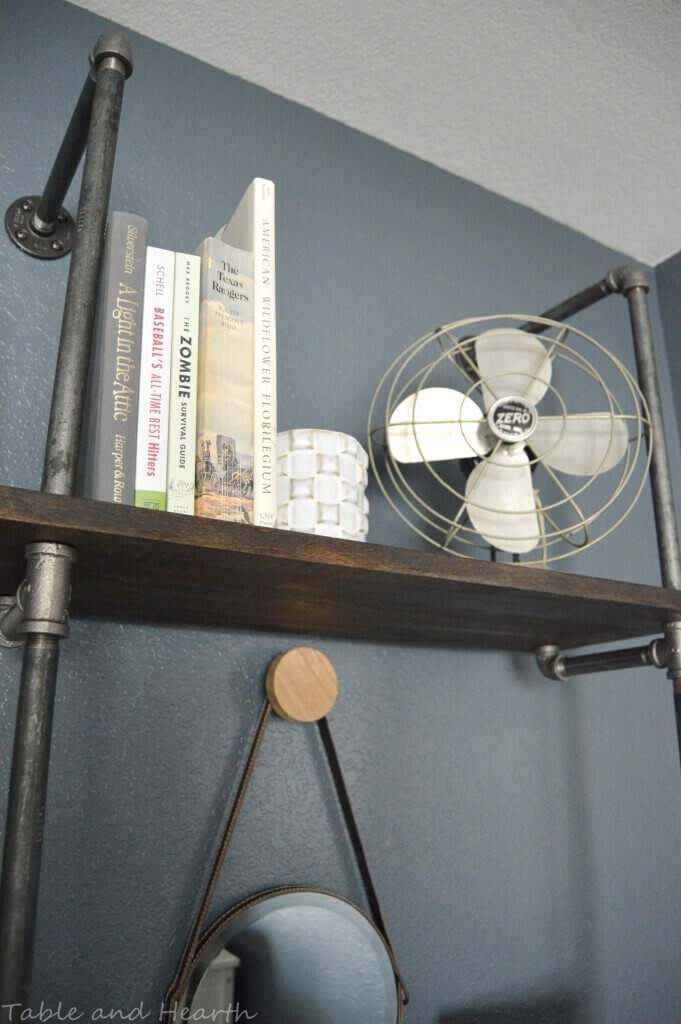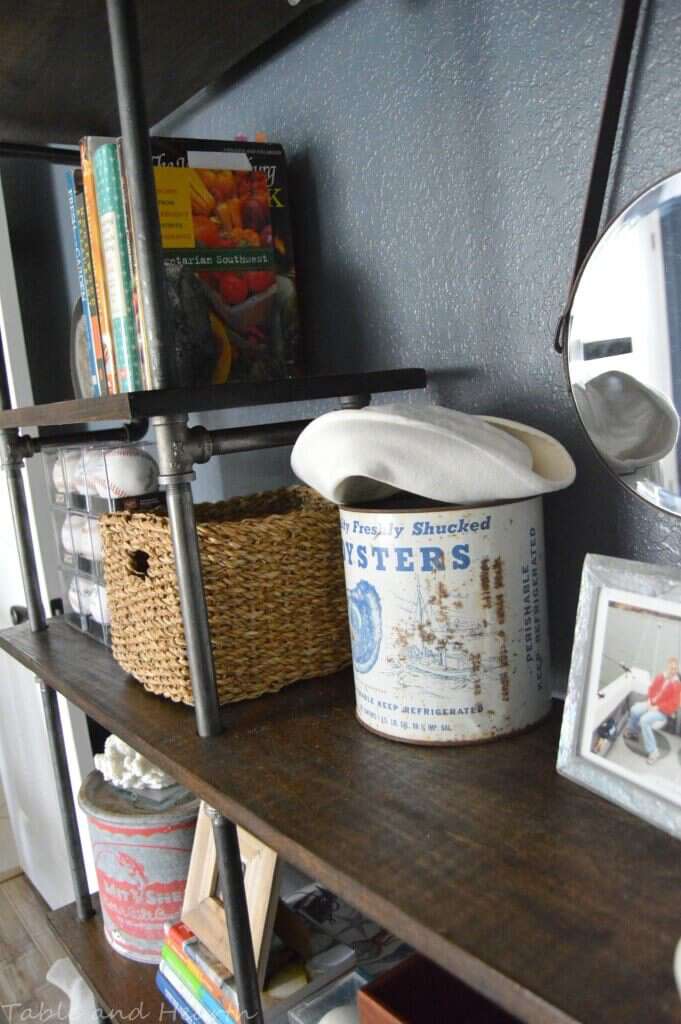 I just love them!!!  There is so much more room to display stuff, so much more space for storage, and it makes the room feel alot bigger since there's not a big piece of furniture there anymore.  Our ugly duckling office is just getting better and better, especially if we can figure out some way to tame the stupid little desk area.  Next project, however, we are back in the guest room hopefully making a big impact with something else I've been dying to do forever…stay tuned!