It just seemed fitting that I do a food post after we spent this weekend grubbing down incessantly.  We headed up to Matt's alma mater Texas A&M to catch a basketball game with the fam (last-minute loss, booo!!!!) and made sure to hit up the old haunts, and now many many fries, wings, burgers, and brews later a little bit of a diet will need to start tomorrow.
Second to molé, sour cream is my favorite type of enchilada…add green chiles and I'm sold.  I added green chiles to the sauce as well as in the filling to make my new favorite sour cream enchiladas.
I use corn tortillas because I can't for the life of me figure out how to keep big flour tortillas from getting soggy in dishes like this.  If you have a secret, let me know!  And, as per usual, I shred a rotisserie chicken instead of cooking it raw.
I sauteéd the chicken with the spices and half of the green chilis, then spooned it into the tortillas along with some spanish rice.
The sauce is based on a roux with sour cream and cheese added to it.  I MUCH prefer sauces prepared this way versus ones with cream cheese because they hold up so much better as leftovers, plus they're usually alot creamier.  Also, I think it's crazy cool how the butter and flour react :)
After pouring my sauce over the enchiladas, I topped it all with a generous amount of super sharp white cheddar cheese.  For this batch, we actually used some white cheddar that we brought back from friends we made in Cooperstown this past summer at the Baseball Hall of Fame induction.  They were from Connecticut and oh.em.gee their cheese!!!!  We probably ate a pound of it in front of them so they sent us home with the rest :)
As much as I love the green chilis in this dish, especially if they can be fresh fire-roasted ones, the spanish rice in the filler is my favorite.  It's like you just mashed everything up on your plate at a Mexican food restaurant, which I do every time.  The next batch may get some refried black beans in there too.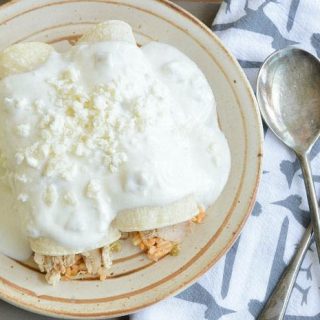 Easy Green Chili Rice Enchiladas
Subtly spicy green chilis jazz up the sour cream sauce and the filling of these easy and hearty enchiladas.
Ingredients
For the enchiladas:
10-12 corn tortillas
~2-3 cups shredded cooked chicken, I use 1 whole rotisserie
1 pkg prepared spanish rice
1 tsp ground cumin
1 tsp paprika
1 tsp chili powder
1/2 cup diced green chilis, or 1 4oz can
2 cups sharp white cheddar
For the sauce:
3 tbsp butter
3 tbsp flour
2 cups chicken broth
1/2 cup diced green chilis, or 1 4oz can
1 cup sour cream
Instructions
Preheat oven to 425F. Grease large baking/casserole dish (I used 9x13)
Sautee shredded chicken, cumin, paprika, and chili powder with the green chilis over medium heat for about 5 minutes.
Spoon spanish rice and chicken mixture into a tortilla, roll up, and place seam side down in dish.
Melt butter in medium saucepan over medium heat
Gradually add flour, whisking and blending completely after each addition, cook for about 1 min
Slowly pour in chicken broth, whisking continuously until smooth
Simmer until it thickens
Stir in sour cream and green chilis
Pour sauce over enchiladas then top with shredded cheddar ( or you can put cheddar on after baking)
Cover with foil and bake for 20-25 minutes until heated through and bubbly.