Until I can find time to start on the cabinets in the kitchen makeover, I'm working on getting the other components picked out and lined up for installation as much as I can. The lighting in our kitchen is, how should I say it….unique. There is a huge track light system that has eight (well seven, one crapped out so we took it off) pendants along it, two big can lights over the bar, and a pendant over the breakfast nook too, so the lighting in here needs as much help as the cabinets do.
**this post is sponsored by Jeremiah Lighting and affiliate links are used for your convenience , click here to see my full disclosure policy**
With such an awkward, tall space and trying to keep from moving fixtures around TOO much to drive costs up, I set out to try and find some more streamlined, subtle, and classic fixtures that could work. It can be overwhelming though, with all the styles, finishes, sizes, and configurations available (and because I want all.the.lights), so I thought it may help if I went through my thought process behind finding the right pendants for our funky space, as well as show you some of the contenders.
Find the right pendant lights for your space:
Scale of the space – There are pendants for all sorts of spaces obviously, but some can be ginormous and some pretty small. You want the lighting to be a focal point, but not totally overwhelm the space. On the same line, you don't want it to underwhelm either. You want to pick a fixture that is along the same scale as both the ceiling height, distance between objects it would be (i.e., over a sink), in relation to other fixtures, and as the size of what it will be hanging over (like an island). Big, statement fixtures are of course breathtaking, but make sure they remain the show-stopper and keep other finishes more subdued around them. In our kitchen, even with the tall ceiling, the psychedelic track lighting overwhelms the space and competes with the busy backsplash and clashes with the pickled oak cabinet finish.
Up vs. down lighting – Depending on what the light is being used for, you will either want the bulbs directed upwards, downwards, or even laterally. For example, over a dining room table you don't usually want such direct lighting so fixtures with bulbs facing upwards cast a much more gentle glow. Fixtures over an island though usually need to provide a decent amount of light, so downward-facing bulbs are best.
Type of bulbs – Most larger pendant lights take normal incandescent bulbs or even Edison bulbs. But some do take more specialty bulbs which can cost more, have a shorter lifespan, and have fewer wattage and color choices. Edison bulbs put out less light and more of a yellow tone than normal incandescents so they are best for dining rooms or smaller-space areas. The track pendants we have now are halogens and while they last a decent amount of time and are bright, they are expensive and put out a TON of heat, which I can really do without in a kitchen.
Number of bulbs – Since we're speaking of bulbs, if you have a fixture that's got 5-6+ bulbs, think about how much light that will put out for whatever type of bulb it is. If you need to light a larger space, you'll want to look for a fixture with more bulbs. And you wouldn't need a 3-light fixture over a sink or small island.
Shade color – Along with choosing the right color, style, and number of bulbs, you should also consider what effect the color and/or material of the shades will have on the light quality. If you're wanting the light to not be a huge focal point and blend in more seamlessly to the space, consider clear or frosted glass shades. Fabric shades can soften the light and give a textured and warm feel to a space, but they do collect dust quickly. Solid metal shades will guarantee that all light will be directed where it needs to go. Some shades can have quite a bit of detail on them or provide a more specific look (like nautical) if you want them to be more of a statement.
Finish – Most fixtures (thankfully) come in a variety of finish options, from oil-rubbed bronze (ORB) to chrome to brushed nickel to even antique bronze. Just remember that not all of your metal finishes in a space need to match. You can have stainless appliances with a bronze light fixture and ORB faucet if you want, as long as the overall look and styles are cohesive. Putting the items on a mood board really helps with seeing how they'd play off of each other. Also, while some finishes may be the current hot trend, try to stick with timeless finishes and styles unless you don't mind replacing them down the line. Advice our previous owners should have heeded…
Cohesiveness – If you're not replacing all of them at once, take into consideration how the new fixture will play off of the other light fixtures in the space, especially other overhead lights. Sometimes a new fixture can clash with older ones of different styles that are nearby (like we have going on now…). Go for fixtures with similar lines and styles, and check out what other configurations may be offered in that certain collection. Since I'm all about making this space more cohesive, I chose lights that were in the same collection too.
So, armed with all those considerations, plans, and ideas, I determined that a long linear pendant with downward-facing lights would be best for the main kitchen area, followed by a larger single pendant for the breakfast nook. I found a TON of awesome choices in the vintage farmhouse/industrial style I was looking for from Jeremiah Lighting, both for the long main pendant as well as the single ones! Here are the fixtures I considered (links to each below the graphic):
Linear Farmhouse-Inspired Pendant Lights – main kitchen area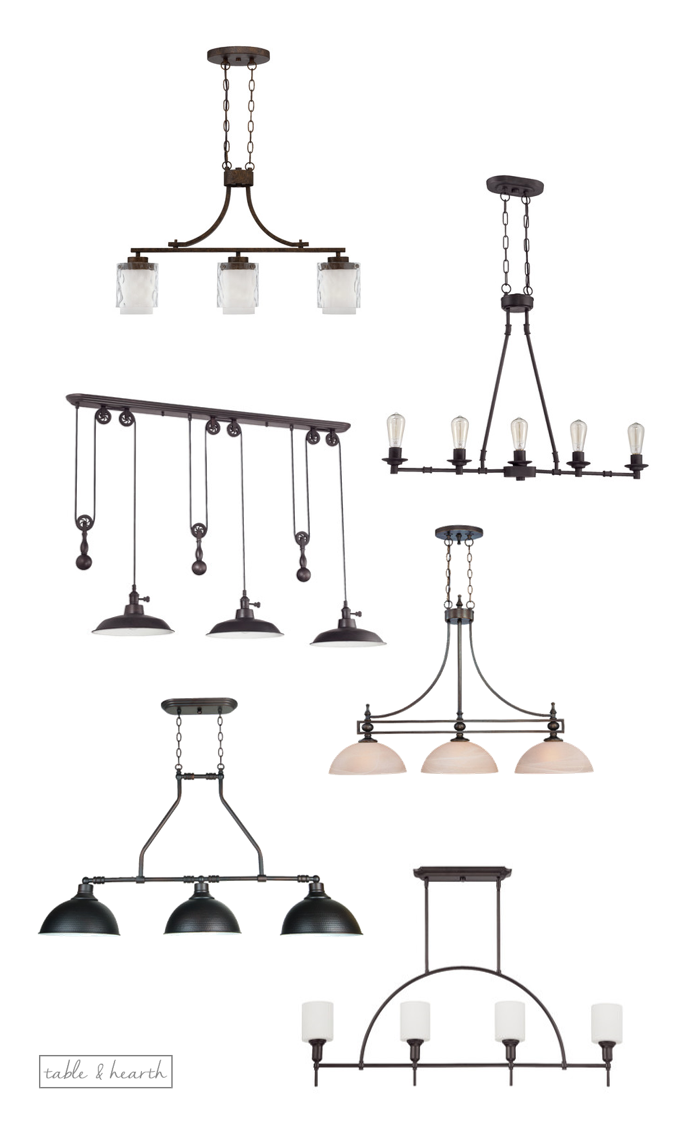 one / two / three / four / five / six
Single Farmhouse-Inspired Pendant Lights – breakfast nook
one / two / three / four / five / six / seven / eight / nine
As you saw on my mood board last week, I decided to go with the Timarron 3-light for the kitchen and the bigger Timarron 1-light pendant for the breakfast nook. I fell hard for their vintage-y hammered metal shades! I got them in the dark antique bronze finish to bring the eye up and make more of a subtle statement.
We have replaced all the other fixtures in this house ourselves, but since this track light is huge and cumbersome and the new fixture will need to be moved over about 6″ (because NOTHING is centered in our home), we have decided to go ahead and hire an electrician to do the work. Plus, we're both short and these are like 10′ ceilings. #nope.
Anywho, I hope these little tips help you whittle down the never-ending choices of beautiful lighting and inspired you to find new fixtures for your space!!