I have been able to check a few things off my DIY to-do list in the last week and one of them, albeit simple, I'm really excited about: a small gallery wall in our office above the desk. Here's a flashback to where it was about a year ago, total blah!
Matt plays fantasy sports (and is really good!!) so he's in here alot on the computer and always nagged for wanted a little TV in here so on Black Friday last year, I got him one. We tried to mount it in the middle of the wall but the bracket kept pulling out of the drywall so it has lived on the desk because I couldn't ever figure out what to do to blend in an off-center TV.
And then a couple months ago, I painted the room Sherwin-Williams' "Outerspace" and love it, but the wall was still bare. Something had to be done.
*affiliate links included for your convenience, click here to see my full disclosure policy
Derrr Emily!! Gallery wall!! They're only like everywhere in blogland and all of them look so awesome so I have no clue why it took me so long to think of it.
I had been seeing some pieces I really liked and ordered, not knowing yet where they'd go:
1) I had to have a Texas print from The Wooden Pencil Co. on Etsy and put it in a frame with burlap mat.
2) Then I saw Hello Hydrangea and also had to have one of her pretty weavings. I just knew her colors would look so good against the new wall color.
3) I've always perused Minted's art section because I love supporting individual artists but always ended up wanting everything but getting nothing. I found this print which reminded me of the tranquility of living by the coast. As much as I'm not a fan of our city, you'd have to be crazy not to love getting to see coastal wildlife all the time and the egrets are my favorite. So I knew I had to have this guy.
I thought this would give me a good start and allow us to hang the stupid TV finally without it being an eyesore by itself. After Matt hung the TV where he wanted it into a stud, I turned off ESPN to take pictures, then used the masking-paper-cut-to-size technique to lay my things out, even though there were only three of them.
And voila! I know it's still small but it already makes the room look so much more finished. And I have room to add whatever finds I want to it in the future. I'm thinking a couple little things on the right of the weaving, something to better hide the dumb TV cord, and something horizontal above the TV.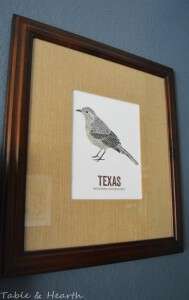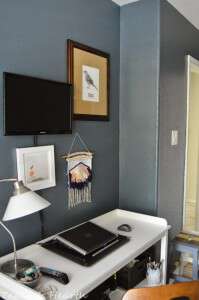 It's nice to have room on the desk again, although that is an area I'd like to work on in the future too. I like the size of the desk but want something with more concealed storage and I need to figure out how to tame the eight thousand ugly cords behind and below it (which I refuse to show).
I'm so excited to start adding to this little wall! I'd like to find some thrifted art along with some smaller pieces from artists at festivals and maybe some DIY projects of course :)