Happy Friday everyone!  I have GOT to knock out at least a one of the half a dozen random projects sitting around the house this weekend, although we have training at work all day Saturday that's really crampin' my plans.  You think they'll mind if I hot glue and spraypaint while I learn first aid/CPR???
After our first fishing trip this summer, our friend gave us his marinade recipe and we've been grilling our wahoo and mahi-mahi in it ever since, it is crazy good.  And crazy easy.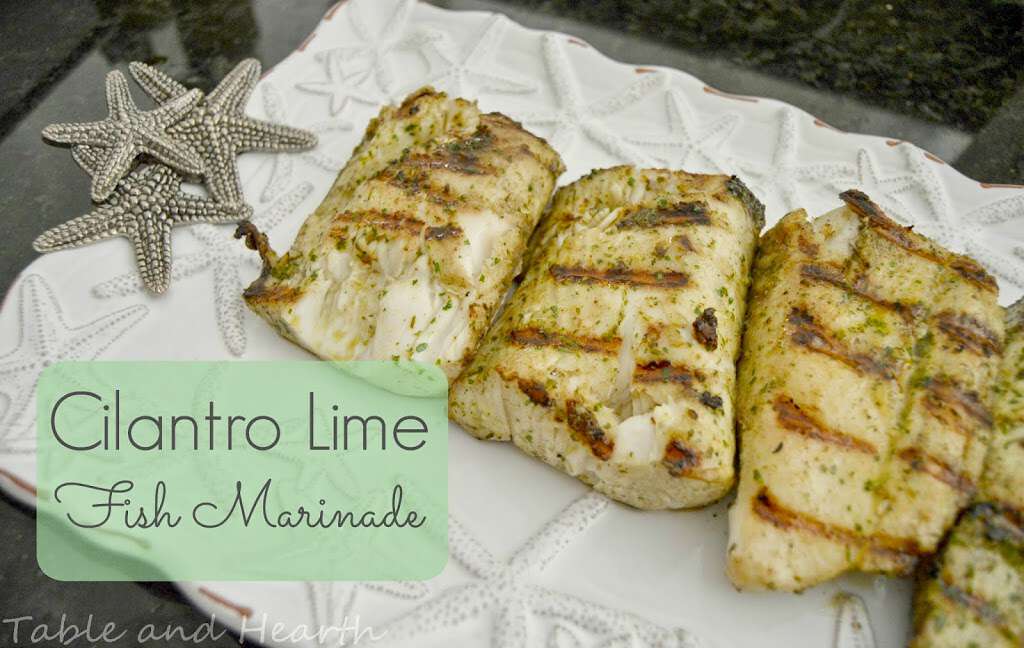 There's only six ingredients to the marinade:  melted butter (duh!), olive oil, garlic, cilantro, Tony's, and lime juice.  You can use lemon juice too, zest it up with some jalapeno, or take out the cilantro if you want, whatevs.  It's very play-friendly.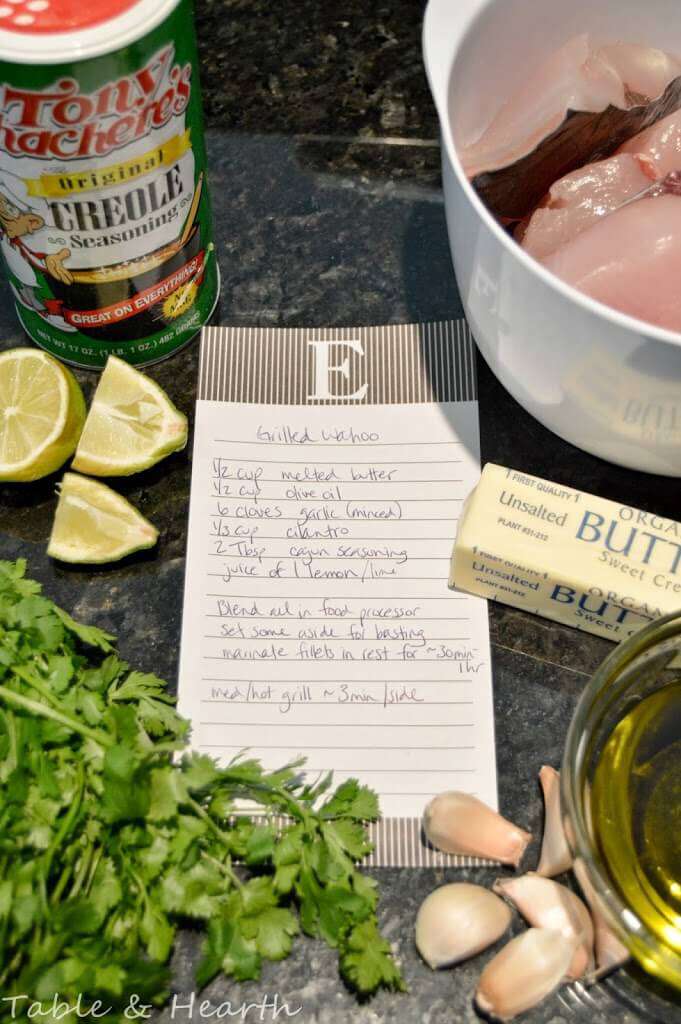 After melting the butter, everything gets pureed in a food processor.  And it smells a.maze.ing.  Or use a blender, if you're like the husband and overflow the food processor bowl so there's butter and oil everywhere :/
Get your fillets all clean and ready.  Remember to trim out that blood line if you can.  We were using wahoo here and have done it with the skin on and with the skin off and found it cooks up better without the skin.  For some reason, with the skin on it didn't stay in a nice firm steak.
Put the fillets in a large ziploc or lidded container and pour the marinade in (make sure to get all those garlic bits at the bottom!).  Swoosh them around real good so it all gets coated and let it sit in the fridge for half an hour to an hour, occasionally swooshing it the whole time.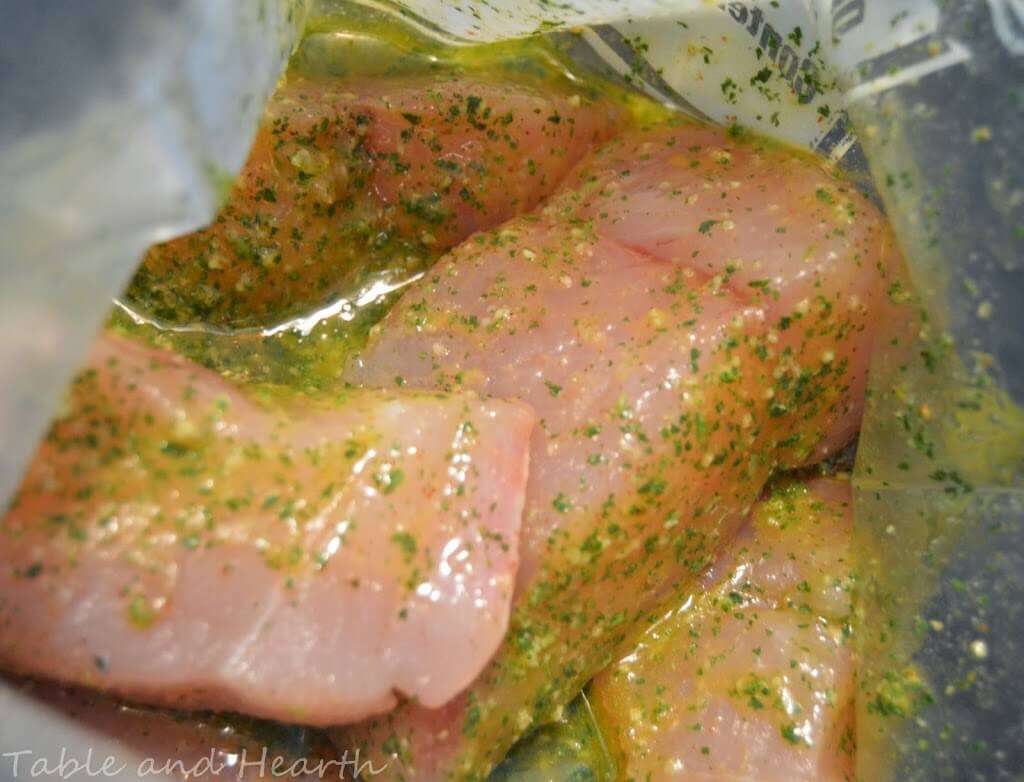 Keeping some of the marinade aside, toss the fillets on a medium hot grill for about three minutes per side, depending on how thick they are.  While they're cooking, baste them with more marinade.  We pull ours off a tad bit before they're done so they won't be dry (they keep cooking after they're taken off).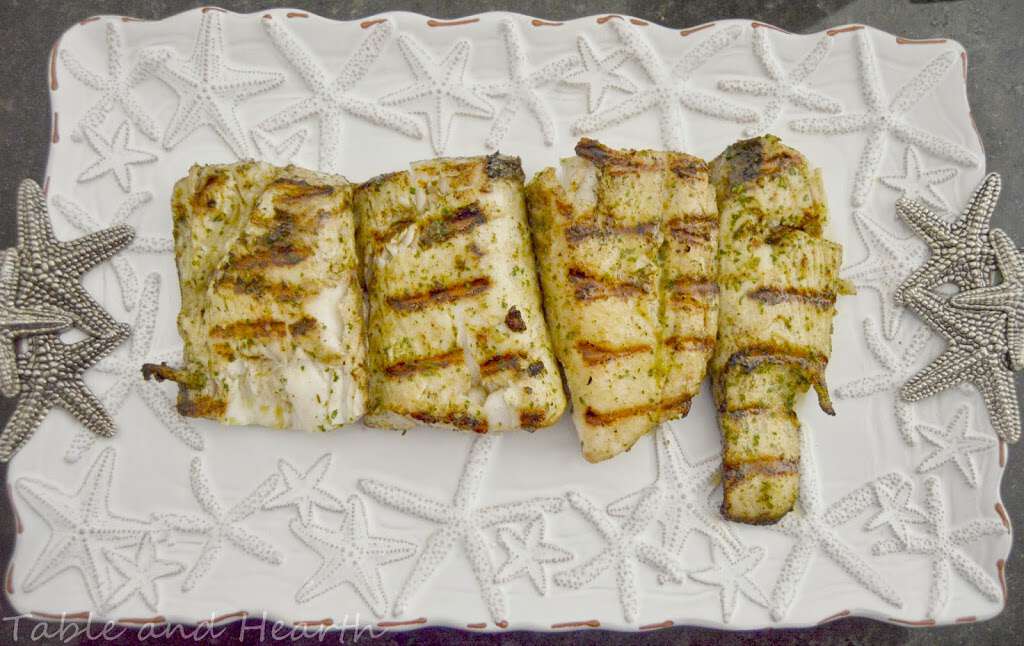 This is the only fish marinade we've tried that's blown us away.  The first time we made it, we looked at each other wide-eyed after the first bite and said "Dude! This tastes like a restaurant!".  Then made it every week for like the next four weeks :)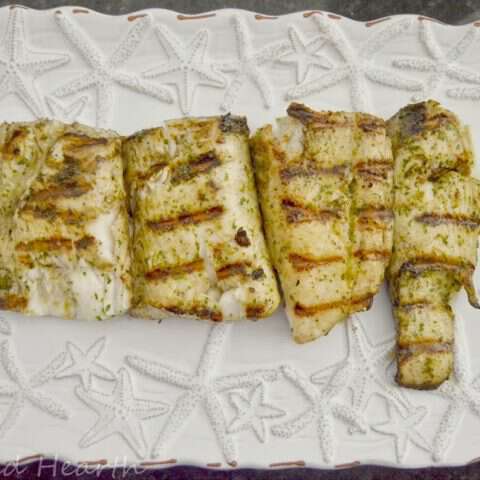 Cilantro Lime Grilled Fish Marinade
Total Time:
1 hour
15 minutes
A quick and easy marinade with TONS of flavor for any firm, white-fleshed fish like mahi mahi!
Ingredients
1/2 cup melted butter, 1 stick
1/2 cup olive oil
6 cloves garlic, minced
1/3 cup cilantro, more if desired
2 tbsp cajun seasoning
juice of one lime and/or lemon
4 thick mahi-mahi fillets - or any thick white-fleshed fish
Instructions
Clean fillets and cut any big bloodline out of them
Puree butter, oil, garlic, cilantro, seasoning, and citrus juice in food processor until evenly blended
Place fillets in large ziploc or lidded container
Set some marinade aside for basting, pour the rest into the fish container then gently shake/stir/mix to cover evenly.
Let marinate in refrigerator for 30-60 mins. Stir/flip occasionally while marinating.
Grill fillets over medium heat grill for about 3 minutes per side.
Have a good weekend guys!!