If there was ever a project that came in the nick of time it may be this one.  With just a couple months left to go before we welcome our first little one, a steady stream of miscellaneous baby supplies has been trickling in and needed to be dealt with stat.  Luckily storage was a top priority in the nursery and these hanging closet storage crates were a big part of that storage.  I got these guys up just in time to help organize all the loot from our baby shower Saturday and man it feels good to have a home for everything already!
*This post is sponsored by Crates & Pallet and affiliate links are included for your convenience, click here to see my full disclosure policy
Here are the super simple steps to take your crates vertical and save space while being super organized in any space!
How to Make Hanging Closet Storage Crates
Supplies
paint – I used chalk paint
paint sprayer (optional – but I can't live without this one)
Instructions
There are a ton of different sizes, shapes, and styles of these wooden crates so you can configure yours however works best for your use and closet space.  I used two small half-crates, a vegetable crate, and a large crate.  I started by measuring how much space I had between the floor and rod then laid out my crates to be sure there was enough space between them to work with.
The crates do come a bit rough so I gave all of them a good sanding with my palm sander.  You definitely want a smaller sander like this that can get into all the nooks between the slats.
I first tried to knot the rope just through the slats in the crates but the openings were a bit large so instead I went through the corners of the edge slats using a 1″ hole saw bit.  Any excuse to use the hole saw I'm down with :)  The crate wood is super soft so to prevent alot of splintering I drilled about halfway through from the bottom, then flipped the crate over and finished the hole off from the inside.
After another quick sanding around the holes and removing any dust on them, they were ready for paint.  Painting all those slats by brush seemed like a nightmare so out came the sprayer and spray shelter.
I sprayed mine with some Annie Sloan chalk paint in "graphite" that I've had left over for a while then sealed them with some satin polyurethane which I also sprayed on.  So.much.time.saved!
Hanging the crates is pretty self-explanatory, starting with measuring out two lengths of rope that are plenty long enough for each side.  You can cut each side in half and tie each side above the bar if you'd like to have a quick way to remove your crates, but I just tossed mine over and left them that way.  (sorry for the nighttime working pics :/)
I threw a couple of clamps onto the rope and the rod to make sure the rope stayed even, it wanted to move around quite a bit.
Also, the holes in the crates are still kind of rough so to make threading the rope through MUCH easier, wrap it with some duct tape so it doesn't fray up and make you want to pull your hair out.
Thread the ropes through each hole and knot off at the lengths you like for each crate.  I will say, this part would go a TON smoother with another pair of hands to hold the crate for you.  A ton.
Once you're good with where your crates are, just cut the excess off and you're good to go, or you can leave it a little long in case you may want to adjust or change up your crate order someday.  I stuck some adhesive metal label holders on the crates too just to make them even more organized :)
I got my crates done just in the nick of time to fill them full of baby goodies after my shower this weekend!  The inside of the closet is the only part of the space that's for the most part done and while it'll eventually have that beautiful chippy door slid over it most of the time, it's just as pretty all opened up I think!
The dark navy/gray paint worked great with all the neutral, weathered shades and textures in the space.
I was really daunted by how to organize all those tiny baby clothes, toys, and immense amount of supplies coming in but between these crates and a cubby full of bins this closet is now holding over half of all the goodies we've received so far with plenty of space to go.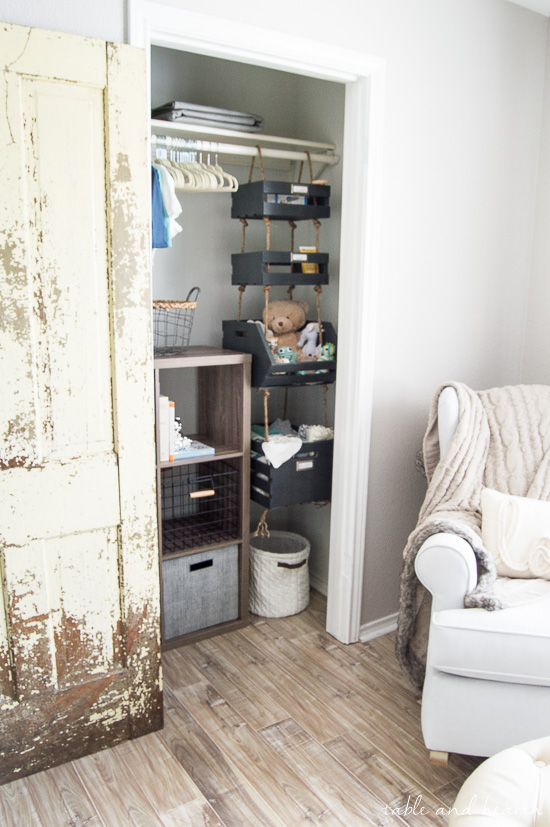 This was such a quick and easy project that gave us a very needed and welcome additional storage option in the nursery and would work in a ton of spaces.  I'm currently scheming on where else we could use some…thinking some in the garage would be nice for gardening gloves, trimmers, and other things we always need to grab.
If you're looking to get your spaces more organized too (who isn't right now??), you'll want to snatch up a handful of these super versatile crates for sure and Home Depot has the Large Crate on a special buy this month at just $9.97 for their huge Store More Save More sale.  Plus they have up to 30% off all of their other organizing supplies too!
And hop around to see what a few of my other friends made with their crates too!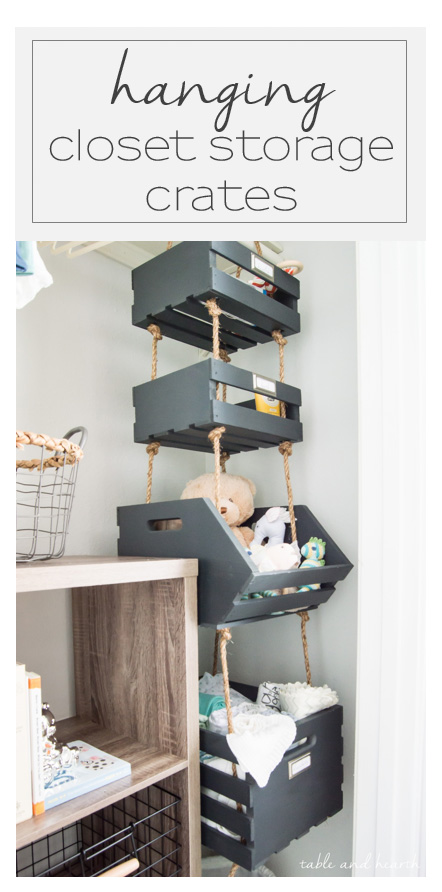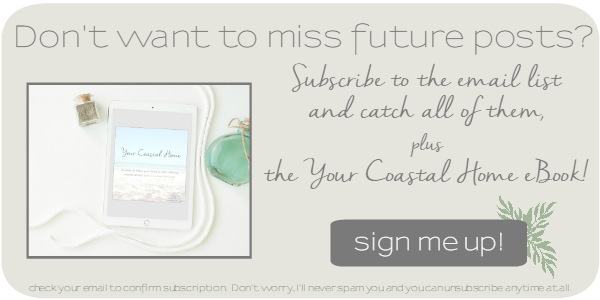 Share this!