Do you guys have a little list of things you've planned on learning for what seems like forever? There's a bunch on mine but at the very top, second to learning to throw pottery, was learning how to can and preserve fruits and veggies.
I have family members who have amazing gardens and are canning machines and they are totally my idols. One of them, my aunt, was the one who taught me how to cook back in college but for some reason I never had her show me how canning works. Then, last year a friend of mine brought some jelly she had made out of her American beautyberries from her yard which was so delicious, and my interest was piqued immediately. American beautyberry (Callicarpa americana) is a shrub native to the southern US commonly found in woodlands and bottomlands. It happens to be one of the only native shrubs that do well in a shady corner of our backyard too. Birds LOVE the bright fuchsia berries which is why we planted it a few years ago but they're pretty inedible raw so I was really interested in how she made it into such a delicious jelly.
Our bush made a BUMPER crop of berries this year so I figured it'd be a great time to take a stab at canning and see if I could make jelly like she did. We definitely had plenty of extra berries in case it was a total flop. I took a load of berries up to north Texas last fall and my aunt and I set out to make the jelly…and it came out amazing!! As soon as I got home I got to work doing it again.
How to Make American Beautyberry Jelly
We followed this simple recipe with just a few little tweaks which miraculously transforms these not-so-appetizing-but-pretty berries into what may be the most delicious jelly I've ever had, and it was a TON easier than I ever thought it would be! I know there are hundreds of great resources out there for how to can, and I've done this all of three times now so by no means am I an expert, but I just wanted to share how we did ours and provide some process pics on how it works with these weird little berries.
As usual, I wanted to get everything prepped and in place since many of the steps are kind of time-sensitive. All the jars and lids were washed, sugar measured out, and I lined everything up by where I was going to need it. Plus a towel underneath the jars because it can be messy. (Find all the supplies I used at the end of the post!)
The big canning pot takes for.ev.er to boil on our stove so it's the first thing I turn on. Set all of your jars on the rack, half-filled with water so they stay put. Keeping them in here while you prep the berries keeps the jars hot and sterile before filling.
Boil your berries with the 8 cups of water while smashing them the entire time to get all the seeds out and extract more juice. You can use a spatula for this but my potato masher actually did a much better job. After boiling for a while they will start to burst on their own but there are some that don't and I wanted as many of them smushed as possible. As the mixture boils and the skins rise it does want to boil over so just keep stirring and keep an eye on it. The water will turn into a reddish tea color and the skins will be tan/white on top.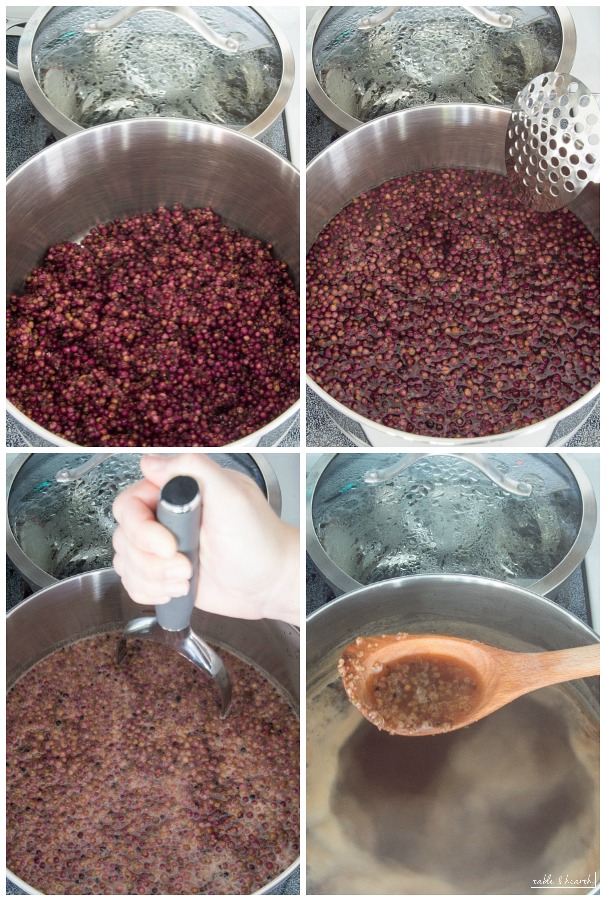 After they're done boiling, set up your cheese cloth sieve over a large bowl and ladle the berry mixture into it slowly. Scoop out some of the collected mush as needed so that the liquid keeps draining through. I used 2-3 layers of cheese cloth and it caught all the little seeds and skins perfectly. Once it's all strained, you'll measure out 2.5 cups of the extract to use for the jelly. There will be extra to use for a second batch or even to freeze for future batches. Note: it looks like it would be a yummy fruity tea…but it is not… at all… it is super bitter and yuck!
At this point, empty your jars and remove them from the boiling water canning pot and set them open-side up on your cooling rack so they'll be ready to fill after the next couple of steps.
Put the 2.5 cups of extract back in the pot for the next steps. This part goes fast so again, make sure you've got everything on hand, measured exactly, and ready.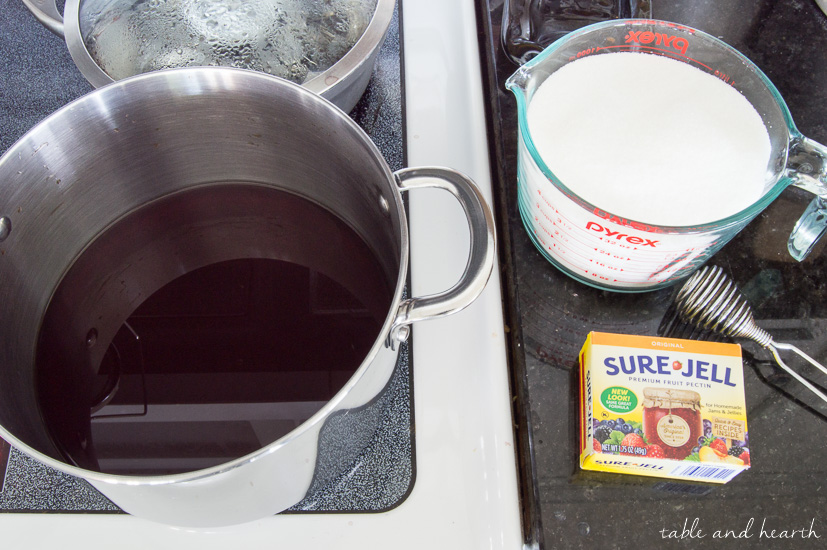 Once the extract is boiling, pour in your packet of pectin and whisk till it's all dissolved then bring to a rolling boil (*a rolling boil is one that doesn't stop when stirred). Whisk in your sugar until it's dissolved and bring to a rolling boil again for exactly ONE minute then remove from heat. WATCH IT because it wants to boil over into a pink sticky foamy mess!! The color it turns after adding the pectin and sugar is gorgeous, back to the fuchsia they were before!
Pull the pot off the stove and scoop off as much of the foam as you can with a spoon. I didn't get pics of this because it kind of needs to happen quickly since the liquid starts to thicken. The foam doesn't hurt anything, it's just a little unsightly in your jars so I try to get it all off (you can see some I missed in the pic below). Place your funnel in the first jar and fill it to about 1/4″ from the top (headspace) using a ladle or measuring cup.
Once they're all filled, use a damp towel to carefully clean any jelly off the rims and threads of the jars. Careful, they're hot! Then use the little handy magnet stick to place your lids and rims on each jar and carefully hand-tighten each one.
Use the jar grabber to place them back on the rack in the big canning pot then carefully lower the rack to the bottom. Let them boil for about 10 minutes then use long tongs to grab the rack handles and lift the rack back to the top of the pot.
Use the jar grabbers again to remove the jars and place them on the cooling rack. You should hear the little buttons start to pop which means they've been sterilized. If there are any that do not pop (meaning you can push on the center and it pops back up) you'll want to keep those in the fridge and use them quickly, they did not sterilize for some reason. Once the jars are cool you can tighten the lids further.
The 5 total cups of extract makes enough jelly for about 24 of these little 4oz quilted jars which were the perfect size to be office Christmas gifts last year :) We also don't go through jelly all that fast so this little size is good for us too so there's not a lot wasted.
The inaugural batch of successful jelly definitely deserved some homemade biscuits! The jelly is sweet, but isn't too sweet and still has some tangy-ness to it which I love. And the color couldn't be more beautiful!!
I am so happy to have finally learned how this whole canning business goes down and I definitely have the itch to try other recipes, it wasn't near as scary as I thought! I'm excited to learn some recipes for veggies and pickling more things, and of course I can't wait until next fall when it's beautyberry season again.
How about you guys, have you canned anything before?
Any great recipes I should try next??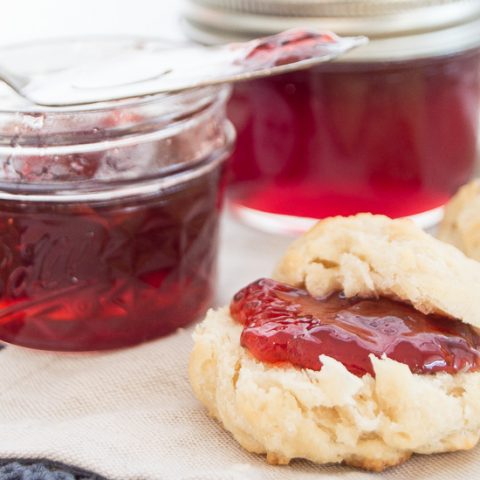 American Beautyberry Jelly
Yield: 24 4oz jars

Prep Time: 10 minutes

Cook Time: 1 hour

Total Time: 1 hour 10 minutes

This native shrub produces beautiful bright fuschia berries which make an excellent tangy jelly!
Ingredients
~6 cups beautyberries, washed and cleaned of stems and leaves
8 cups water
3 envelopes Sure-Jell pectin
(2) 4 cups sugar
canning supplies
Instructions
Wash everything with warm soapy water
Get all gear ready and prepped in place, be sure to put towels down under your cooling racks
Bring canning pot full of water to a boil with jars inside filled with water (rack up)
Put lids and rings in medium pot in water, keep on low
Put beautyberries in large saucepan (6qt) and cover with 8c water
Heat to boiling while mashing with masher or smooshing on sides
Boil for 20 mins, watch for boil over
Strain through large mesh colander and 2 layers of cheesecloth, scooping out stuff as needed
Place 2.5 cups of the liquid back in saucepan (save rest for more batches)
Using grabber, empty and remove jars from pot, set on cooling rack, keep the big pot boiling
Bring extract to a rolling boil again
Add 1 envelope of Sure-Jell, dissolve and return to rolling boil
Add 4 cups sugar, dissolve and boil for 1 minute - watch for boil over!!!!
Remove from heat
Skim off foam with flat spatula best as you can
Pour jelly into jars using small ladle with funnel to headspace (~1/4")
Clean rims of jars carefully with wet rag
Use magnet to place lids and rings on jars, tighten by hand or with tightening tool
Use grabbers to place jars back in pot
Lower rack and let jars boil to sterilize 10 minutes.
Remove from pot and allow to cool on cooling rack.
Tighten jars again
Repeat from step #9 with second batch of extract
Notes
This basic canning process can be used for various other fruit as well
For stronger flavor, use more berries in the beginning
Best with fresh berries but you can also use frozen berries or frozen extract, color won't be as vibrant as with fresh berries though
*affiliate links included for your convenience, click here to see my full disclosure policy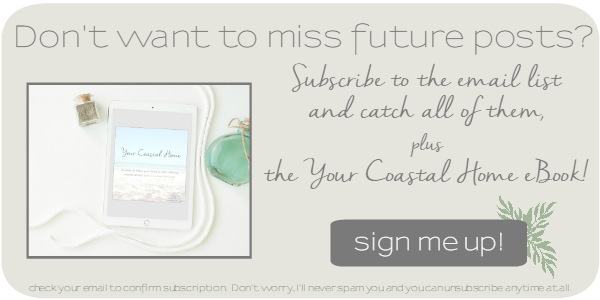 Share this!