Alright guys, it's month two of the Monthly Ingredient Challenge!  Last's month's cilantro challenge was so much fun so I couldn't wait for this month's to come around.  Our ingredient was apples, and I'm really excited for where my recipe went!
Some coworkers and I recently went to a new Mexican food joint here in town and one of our dishes came with a green apple pico de gallo.  While I have seen the sweet mango salsas and stuff like that, I had never seen a pico done with sweeter fruits so I knew I'd love to recreate it for this month's apple challenge.  After picking my mother-in-law's brain about it, she mentioned a ceviche she recently loved, which instantly turned me on to adding shrimp and doing a ceviche.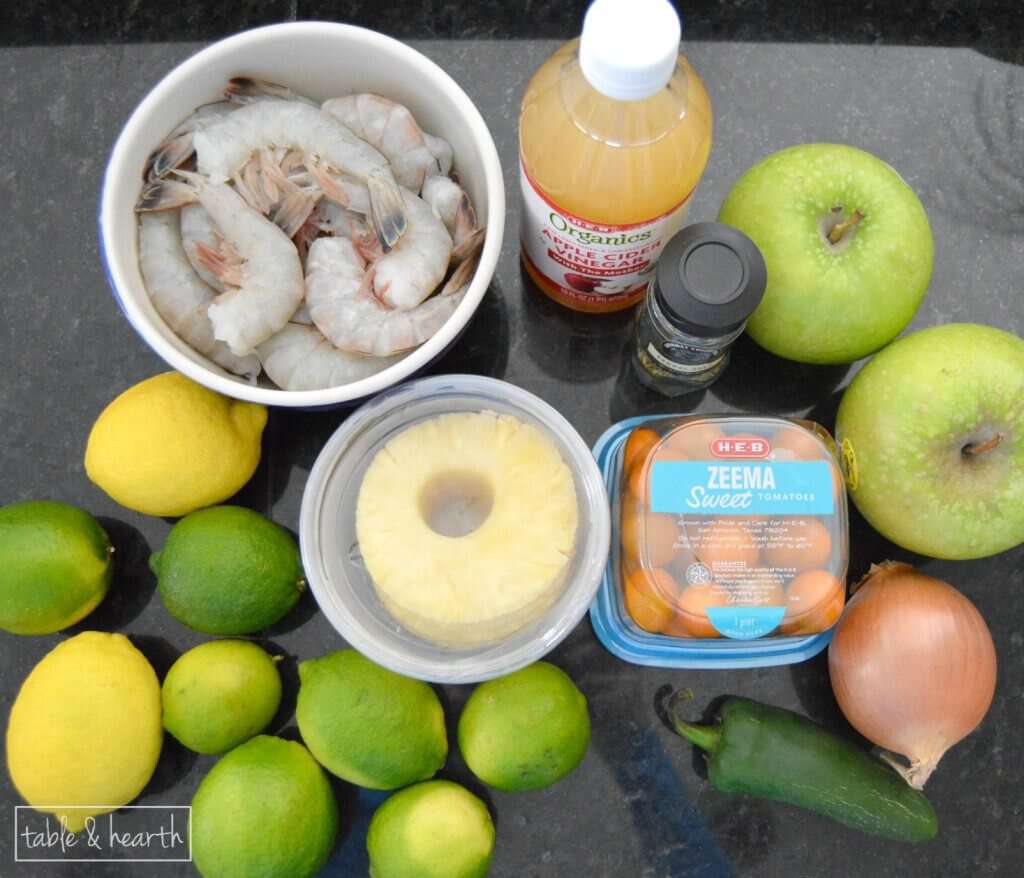 I ended up not using the tomatoes or fennel so ignore them in this photo.  The fennel just had too powerful of a flavor and I didn't want another color in mine so I didn't use the tomatoes.  Although typical ceviche and pico of course has tomatoes, so add them if you wish.
First up is to "cook" the shrimp in lemon and lime juice.  Use kitchen shears to cut up your shrimp to however small you desire, then juice lemons and limes (I used more limes than lemons) until it covers the shrimp in a bowl.  Seal with saran wrap or a lid and refrigerate it at least 4 hours.  The shrimp will be firm and white when they're ready, just as if they were cooked with heat.  This can also be done with fish, as long as you use some that has nice, firm, white, non-fishy flesh like trout, snapper,and mahi.  Side note, this little juicer I found at Crate & Barrel is a lifesaver!
While the shrimp is sitting, prepare the rest by dicing the apple, onion, pineapple, and jalapeno into small pieces (or larger if you'd like) and mixing it all with the apple cider vinegar and juice of one more lime.
When the shrimp is ready, drain the juice from it and most of the vinegar/juice from the fruit then mix them together with the chopped cilantro.
Serve it up with your favorite tortilla chips and chow down!  It's completely healthy and filled with tons of unique flavors.  It's almost as if summer is right around the corner…almost!
Apple Pineapple Ceviche
A unique twist on the traditional healthy snack.
Ingredients
1 green apple, finely diced
1 cup pineapple, finely diced
1/2 medium white onion, finely diced
2 jalapenos, seeded and finely diced
1/2 lb. shrimp, peeled, deveined, and chopped
1/2 cup cilantro, chopped
1/4 cup apple cider vinegar
2 or 3 lemons, juiced
6-8 limes, juiced
cherry tomatoes, optional
Instructions
Put chopped shrimp in bowl and cover with lemon and lime juice. Seal and chill at least 4 hours, preferably overnight. Stir once or twice if possible.
Combine apple, pineapple, jalapeno, onion, apple cider vinegar, and juice of one lime and stir to combine.
Drain juice from shrimp and fruit mixture.
Add shrimp to fruit and stir to combine.
Serve chilled with chips.
Stays good in the fridge for a couple of days.
Notes
Any amounts can be adjusted for personal preference. You can also use any white-fleshed fish and prep the same way or omit the seafood altogether and you have a refreshing, light, vegetarian pico de gallo!
Check out all the other apple dishes from this month's challenge here: