I believe the front entry and front door set the tone for the rest of your home, so it should be welcoming and inviting and represent your style. Our mid-90s stucco home got a beautiful and durable new door plus a redecorated courtyard and foyer to give it the coastal farmhouse entryway makeover it was long overdue for!
This project wins the award for the longest wait ever, but it is worth every single month of that wait! It's pretty ridiculous how often I find myself just gazing over at our entryway in the evenings, just admiring the new view that we never thought we'd have. With this one project our home feels exponentially more complete and "us", and I've checked off two more spaces in our home.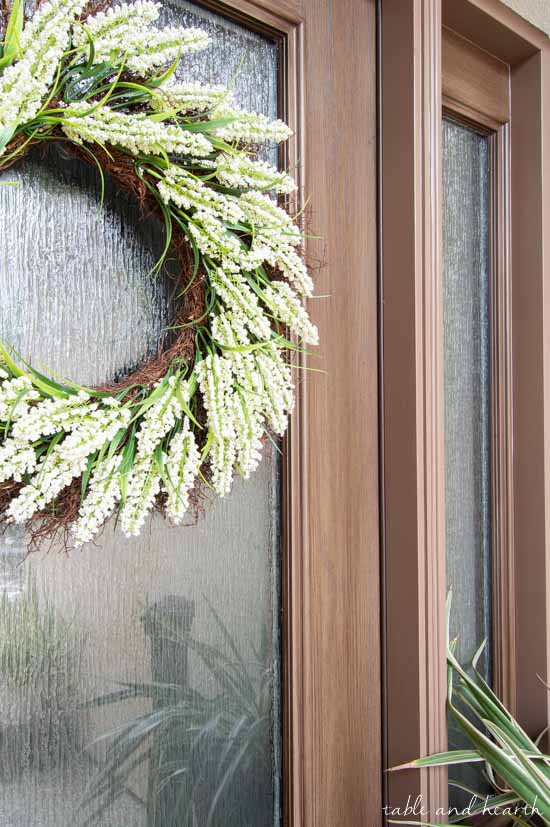 *this post series was sponsored by Therma-Tru and contains affiliate links for your convenience, thank you for supporting the brands that support this blog. Click here to see my full disclosure policy.
Before we jump into the "new" spaces, let's take a look where we started late last summer, where the last remaining bit of mid-90s lingered on our home:
Glass block, shiny brass, dated trim…plus some poor weather stripping and chipping paint to top it all off. You can see all of the scary beginning and the rest of this process in these posts:
I have long admired Therma-Tru's design and quality so I was thrilled when they hopped on board to sponsor this project. Thanks to them our home has an inviting timeless coastal farmhouse entryway that will stand up to whatever our Gulf of Mexico neighbor chooses to throw at it.
Coastal Farmhouse Entryway Reveal
For the new entryway, I wanted to keep things pretty classic and simple so I chose a 3/4-lite door and double sidelite unit with a medium stain that has a hint of gray in it, and kept the decor and other components casual in style with shades and textures that tie into our coastal farmhouse look. Here was my original design for the space: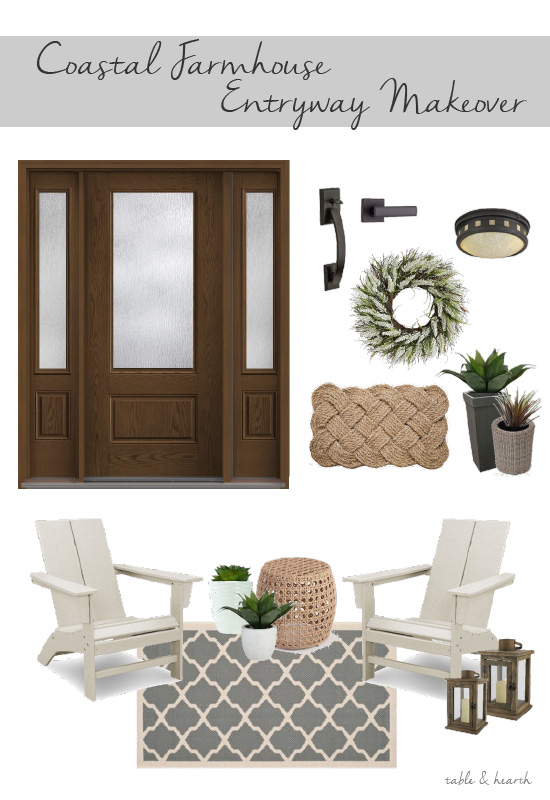 And here's what our entryway and courtyard look like now!
Can you even?!
The wood-look fiberglass door adds warm contrast to the hard stucco exterior of our home and is exponentially more inviting than the old door. The courtyard is now fresh and inviting with some sturdy seating and a rug to make it more like a little outdoor room.
I am SO HAPPY I decided to switch to the black adirondack chairs at the last minute! Our home and the courtyard wall is a light beige so even though those sand-colored chairs in my design board are usually more my style, out here they would've just washed out. The black brings much-needed contrast to the area and also ties into the black planters and black monogram used over by the door. These guys are a great quality and will last forever out here, a big improvement over the cheap plastic ones I kept getting that blew all over the place. Planning on getting a couple for the back pergola soon now!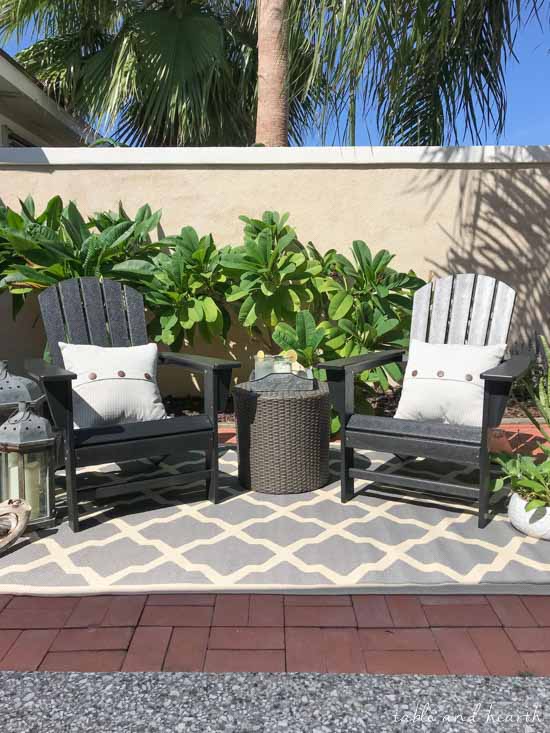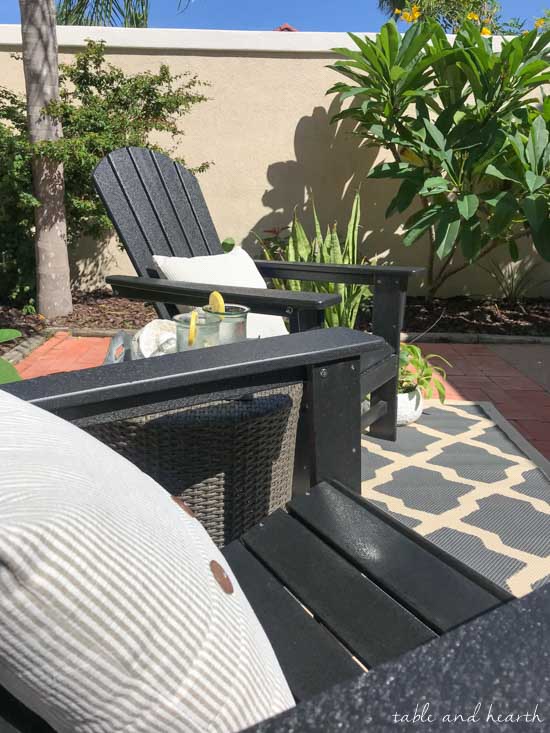 Confession time… I took the courtyard photos before the door was installed because my plumerias
were minutes away from dropping their leaves and they would've just been sticks if I took pics when the door was in (like you can see peeks of in the door reflection) lol!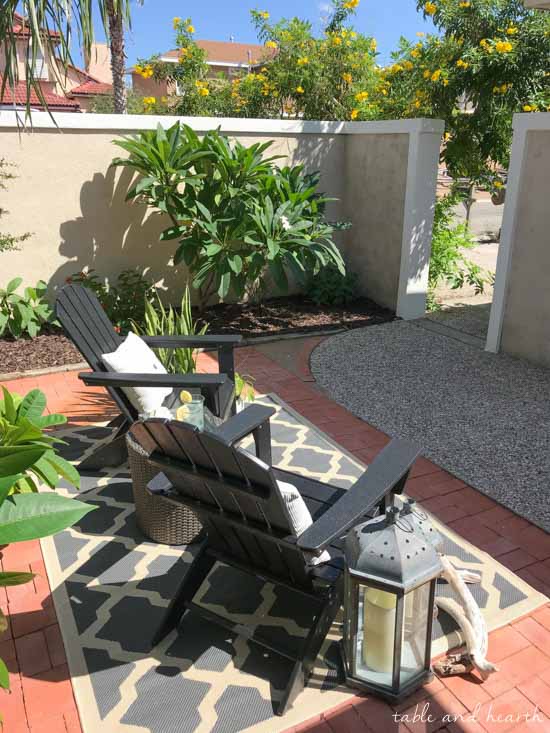 Now let's go back to talking about the real star out here…the new door unit!
We are so in love with everything about it; the stain color, the glass, the quality, and the durable functionality. The semi-private 'Rainglass' glass lets a ton of light in but is much more private than the stained glass we had before. The 3/4-lite style with panels is the simple, farmhouse-inspired style I was looking for (ours is style FC766XJ).
The black threshold and handleset is also a much welcome update after having bright brass ones before. The door's weather stripping and sweep/sill are so much more secure with a nice tight seal now and our door actually closes EASILY and lets us in when we try and open it, unlike the old door.
Since we had a new door and new courtyard decor, of course I had to update some of the other accessories too. I swapped our old flushmount light for this hanging dusk to dawn pendant which works much better for our tall entryway. It also lets out a ton more light which is great at nighttime. We also upgraded our doorbell to a Nest Hello because the husband needs alllllll the Nest products lol. And a new monogrammed doormat from my favorite source polishes things off.
As I mentioned in the install post, we opted to have the trim and mull posts painted in a similar shade as the stain rather than white and I'm so happy we did! I feel like it makes it all look more cohesive, especially since there's already new white stucco trim around the unit.
The Therma-Tru Fiber-Classic door we chose is fiberglass and features a durable staining process called PrismaGuard that achieves virtually the same look as wood but with the weather-resisting durability of fiberglass. We didn't want a color that was too warm, so I chose the 'Driftwood' stain which is a perfect medium shade with just a touch of gray (and of course I couldn't go wrong with something called driftwood around here). Here's a close up of what the texture and stain look like on the door. You gotta really work to tell that this is NOT a real wood door!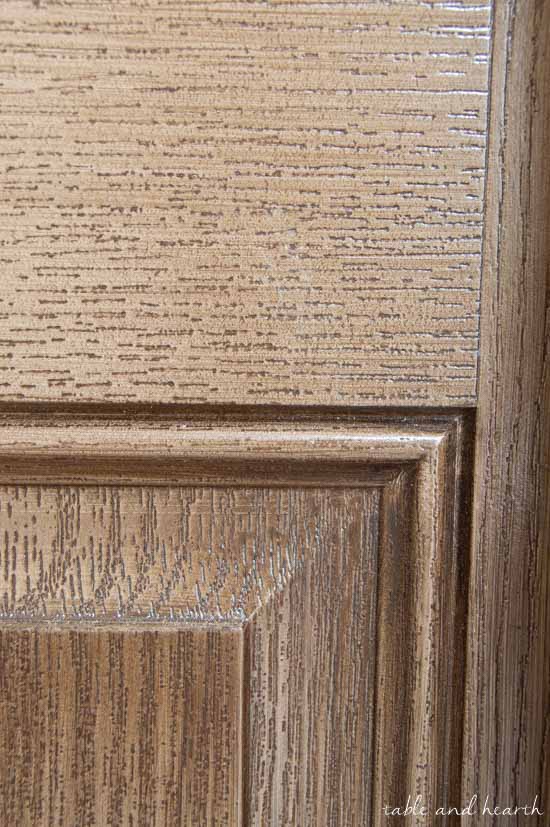 To make the new door and courtyard even more welcoming, I made sure to add in some plants, lanterns, and other decor accents here and there. Our DIY welcome sign post fits in perfect among everything too. There is a long bare wall to the left when you walk up to the door so I placed a trio of budget-friendly black planters here to break it up a bit. I'd love to get some that have some height and weight to them someday, maybe even DIYing something, but for now these will work. Loving all the black accents out here!
Let's see how the new door looks from the inside and check out the new foyer decor!
I chose to have the door stained on both sides versus having the inside painted white so that it would be a focal point inside as well. With all the white we have in our living area the wood texture is a much welcome change and really warms the entire space up in here too.
(was really hard to get a decent pic at this angle because of all the light coming in now!)
And oh heyyyyy, who's that pretty little number over on the right you ask?! That would be my DREAM sideboard I scored right after the door was finished which makes this new space even more amazing. There's some new lamps and decor on the sideboard and a set of my botanical art next to the door now.
Man, just look at all those cozy textures! I can't get enough of this view lately and now our living room, and our home, feels complete.
We couldn't ask for a more perfect door for our home, both for style and for durability. It's a huge relief to not worry about the condition or functionality of our front door in our coastal weather, and also a huge relief not to look at the hideous brass and flaking paint anymore. Now when guests walk up to our house, I hope they get a sense of the casual coastal farmhouse vibe and a warm welcoming feeling.
I can't thank Therma-Tru enough for making our dream coastal farmhouse entryway come true! They've been so great to work with through this whole process and we are very impressed by the quality and craftsmanship of everything. When this started, I thought my dream of a classic wood door wouldn't ever happen given our harsh coastal environment, but they had the perfect solution that combined my love for wood doors with the impact-rated and weather-resistant durability we need here! Couldn't ask for a better answer to our needs and we are so thankful. Now it's time to give our back doors some love :)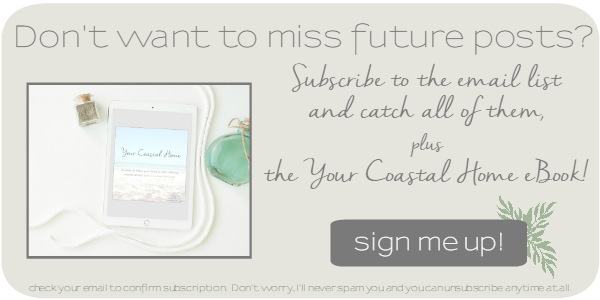 Share this!