Happy fall everyone!
Now that it's finally cooling off here in south Texas (as in, temps of 80s instead of 90s), we can actually enjoy our back patio instead of feeling like we are on the surface of the sun. We absolutely love our backyard and spend as much time out here as we can now that the little dude likes to play all over it.
Back in 2015 I overhauled our back patio decor in just six short weeks and it's been so great for us ever since.
To welcome spending more time out here, I thought it'd be fun to add some contrast by giving our three patio doors a refresh with black exterior door paint. The three patio doors were looking super old, dingy, and dirty so they needed some love anyway.
I partnered with my friends over at Modern Masters to finally use their Front Door Paint product. I originally planned to work with them to paint our old entry door but we decided to replace that whole unit completely (reveal HERE), but we had plenty of other exterior doors that needed a fresh coat of paint too. So their Front Door – errr, Back Door(?) Paint to the rescue!!
Prepping to Paint Exterior Doors
(affiliate links used for your convenience, click here to see my full disclosure policy)
In all these years of doing home projects, I've definitely learned that the key to any painting project is quality prep work. PREP, PREP, and more PREP if you want your paint job to look good! Since these are exterior doors that are exposed to harsh coastal weather, I wanted to make sure I did the best I could to make sure this paint job was done well. These doors were in pretty rough shape and needed a good cleaning as well as some new caulk along the seams, so the prep part of this project was a bit more intense. Here's what I used:
First up was a really good soap scrubbing to get as much dirt, grime, and funkiness off as I could. During this I found that most of the dirtiness I was seeing was actually the old caulk around the window insert that was sticky, grimy, and peely, and on two of the windows the water dripped down inside the window so obviously the caulk was no longer functional anyway. So more cleaning and re-caulking was in order.
I planned on painting the edges of the door so no white would be seen so I taped off the inside frame of the door as well as the hardware. The handles are pretty rusted now as well but three new outdoor locksets just weren't in the budget at this time so they'll get replaced later on.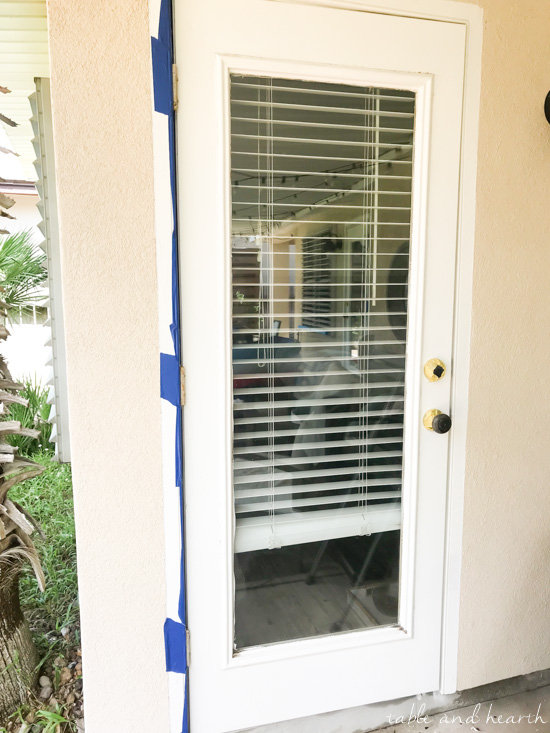 I peeled and scraped as much of the old grimy caulk off as I could then applied new caulk (in a much cleaner manner than the previous person did).
Our hinges were also really rusty but I wasn't up for replacing the hinges on all three doors so I gave them a good scrubbing with the wire brush to remove as much of the rust as I could. They really need to be replaced with stainless hinges since everything rusts so bad back here, but until that happens painting these black is at least better.
After all that prep I was finally ready to get to the fun part of painting!
Painting Exterior Door Paint
Once the prep was all done, I got started painting. You use the Front Door Paint just as you would any other paint. For my doors, the instructions stated that no primer was needed, so I didn't use any, but I do usually recommend it no matter what and I think it would have helped my doors so I'm adding it to my supply list here.
Box cutter or razor scraper again
My doors have the big blind inserts in them so I just used a handheld brush, but if you have solid doors you can also use a roller if you'd like.
Here's one of my doors after the first coat was applied. Consistency was as I pretty much expected putting black paint on a white door, but the paint definitely did not want to play nice with the plastic molding around the window insert.
I did three coats on the door to get it nice and solid and five on the stubborn plastic molding. I think if I would have used a high-quality primer it would have avoided a coat or two, especially on the plastic. But hopefully we're good now.
Once everything was nice and dry I used a box cutter along with the razor scraper to get the paint off the glass and have a nice clean edge against the molding.
Here is a better look at the final finish. I really like how it has some sheen to it but it's not super glossy. There are brush strokes but some of them resulted from strokes on the original door. The paint does dry pretty quickly so do try to get your coat on quickly and carefully and don't go back over areas once they get tacky. You could also try sanding in between coats to help smooth the finish, I just decided not to.
So here are our "new" patio doors! I really love the extra contrast they give along our boring beige and white walls plus the black plays really nice with the dark sconces we added a few years ago.
This was just the quick update our backyard space, house, and my busy life, needed! Not only a quick project, but I can be confident in the work since the product was made exactly for the harsh exterior environment. Now to work on new hinges and hardware lol.
If your doors could use a fresh and durable new look, check out Modern Masters' Front Door Paint as well as their full line of impressive paint, texture, and plaster products for all sorts of creative looks!
Modern Masters Collections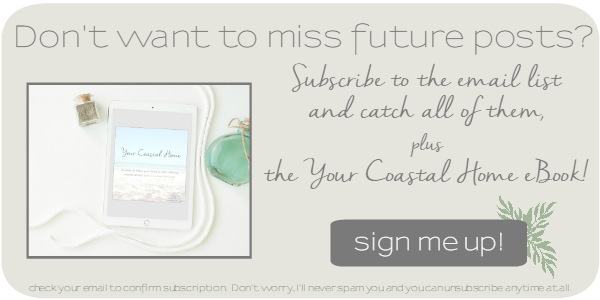 Share this!